A look at Brightcove's in-house video studio equipment
Marketing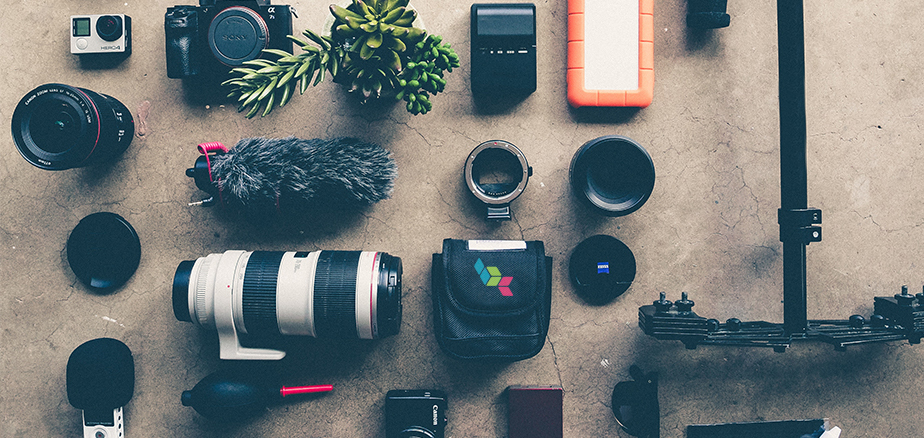 Our Video Production Equipment
Every artist has their special tools. Michelangelo's chisel and stone. Dalí's paintbrush and canvas. Shakespeare's pen and paper. Well here at Brightcove, our video team has some pretty cool tools too.
Cinema and DSLR cameras, photo lenses, plasma, fluorescent, and LED lighting, boom and lav mics, and a whole lot of accessories to boot.
Having a variety of video production equipment in your in-house studio allows you to produce professional looking video that you can leverage in myriad ways for your company.
Figuring out what to buy can be tricky, and expensive. You want to have the necessary tools you need to produce great looking video content, but also need to keep your budget in mind. There are so many options for cameras, lights, lenses — options for everything even down to headphones and memory cards.
To make things easy and help you with your production equipment shopping experience, we're going to tell you everything we have in our video closet:
Cameras
Canon EOS C200 - The need to shoot in 4K prompted us to upgrade to the C200, and now we shoot almost everything with it—including the videos you see in this post.

Canon EOS C100 Mark II Cinema Camera - The C100 is a reliable and an affordable option for anyone looking to create professional quality video content.

GoPro Hero 5 Black - We use this primarily for time-lapse shots at events, but we have also used it for fun internal videos featuring our employees. While having a GoPro is not necessary, it can be a fun camera to play with to get some creative clips.
Lenses
We mainly use three different lenses for our cameras at Brightcove, all in the Sigma family. Using three lenses from the same brand makes color-grading much easier, since all the footage comes out looking the same.
Sigma 18-35 f/1.8 - This is our workhorse lens; we should almost everything with it. The clarity on this lens is awesome, and it's great for shooting 4K.

Sigma 14-24 f/2.8 - If you want to shoot super-wide, this lens gives your footage a primo look and a sense of space. We used it to shoot overhead shots of the ballroom at our annual conference, PLAY.

Sigma 50-100 f/1.8 - This big lens is awesome on a B cam for interviews. It gives a creamy bokeh to the background of your shots.
Lights
We have quite an array of lights in our equipment closet:
Hive Lighting Wasp Plasma Light Kit - We love our Wasp. It's our main light for almost everything we record. We also use a Chimera Lightbank Softbox with this light to soften it when recording people or close up product shots. This light gives off no heat, lasts 10,000 hours, and produces great colors for your lenses. If it's within your budget, get this light!

Kino Flow Diva-Lite Kit - The kit we have has two Diva-Lite fixtures and came with diffusers, tripods, and a carrying case. We have taken ours on the road many times, it's a great kit to get started with and provides awesome lighting for interviews and more.

Westcott LED Ice Light - Aside from being awesome for looking like a light saber and being used in an Arcade Fire video, the Ice Light is an amazing lighting tool that can be used in many environments. It's great if you're at an event moving around a lot, and in the studio it works well as a backlight on a paper background or for adding a little extra light on someone's face.
Microphones
We primarily use three microphones for recording video for interviews, in the field, and for recording voiceovers. Here's what we have:
Audio-Technica AT4053b Hypercardioid Condenser Microphone - We use this shotgun mic whenever possible in-studio and around the office. The boom mic in our studio is propped up using a K Tek Boom Pole resting on an Impact Turtle Base C-Stand with an Auray Boom Pole Grip Kit. While these three items are all sold separately and are not cheap, it's a durable and professional setup that will last forever.

Sennheiser MKH-416 Shotgun Microphone - We use this mic when we're heading outdoors for a shoot since its specialty is external audio.

Sennheiser G3 Camera Mount Wireless Microphones - Lav mics come in handy when recording interviews and speakers at events or meetings at the office.

Blue Yeti USB Microphone - The Blue Yeti is durable, picks up great sound, and is pretty much ready to go right when you plug it into any audio software program. It has multiple recording settings and is even great for recording podcast audio.
Accessories
For tripods we have a Sachtler Tripod System and a couple of Manfrotto tripods, plus a Manfrotto Monopod. We use 64GB SanDisk Extreme Pro Memory Cards. For motion, we use a Kessler Pocket Dolly Traveler, plus the Mini version.
For scripted videos we use the Autocue 17" Teleprompter. Smaller accessories we have kicking around our studio are a set of Matthews Apple Boxes for getting the camera or a person to be the right height and Impact Sandbags to weigh down our tripods that hold up our delicate lights.
We use a Manfrotto Expan Drive Set to hang backdrops in our studio because it can hold up to three at a time, which makes our lives easier because we can pull down whichever one we need at the time.
Our Leatherman OHT multitool has a blade, serrated knife, screwdriver, hook, and bottle opener, and being able to use it one-handed is a lifesaver on set.
We recommend starting by buying what you need to get the job done at first and then moving up to better gear as you starting producing more videos. Another thing we recommend is renting equipment and trying it out before buying it. Figuring out what gear works best for you will help you define the look and feel of your videos.
If you have questions about building your in-house studio and what gear is best for your situation, please feel free to reach out to the Brightcove team for advice.
To learn more about building an in-house video studio, check out 6 Things You Need to Build an In-House Studio