TAKE YOUR EVENT VIRTUAL
As the trusted video partner of conferences around the globe,
we enable brands to securely share their story
through immersive live and always-on experiences.


TALK TO US
Watch Video
Launch large-scale virtual events quickly
and easily with Brightcove Virtual Events Experience
Create branded experiences
Ensure your brand is featured throughout your event with custom branding in event portals, live-streamed experiences, and virtual breakouts.
Increase value for sponsors
Offer value to sponsors with ads that can be easily displayed in pages as well as before, during, or after live streams or on-demand videos.
Offer a quality, scalable video experience
Scale your event to hundreds of thousands of attendees with high-quality HD video across devices.
Stream videos live and view on demand
Engage your audience with live keynotes or video-on-demand breakout sessions.
Register attendees
Manage live event attendees easily. From registration to your event landing page, email confirmation, and paywall, it's all seamless.
Track results with deep analytics
Integration with leading marketing automation platforms lets you determine lead sources, pipeline attribution, and engagement metrics.
Assure business continuity and avoid disruptions
Events are being canceled and employees are working remotely all over the world because of health and safety concerns. However, there's an alternative to cancelling: Go virtual.
Request your 50 free hours today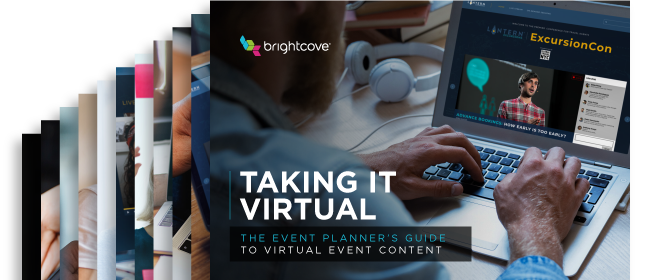 When planning a virtual event, it's important to optimize content to the virtual experience. Learn how in our ebook,
"Taking it Virtual is Easier Than You Think: The Event Planner's Guide to Virtual Event Content"Download the ebook here.