How to Publish Brightcove Video in WordPress
Marketing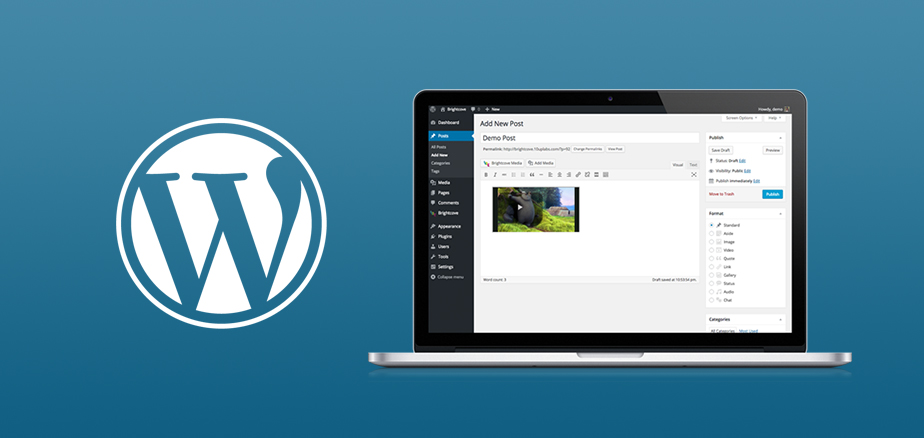 Content creators love WordPress. And it's easy to see why: a user-friendly interface, a robust publishing process, and an active ecosystem of valuable plugins. In fact, it's the content management system (CMS) behind the majority of websites on the Internet and a top choice for marketers — particularly for those who publish video.
Video is fast becoming the principal way we engage on a deeper level with individuals and brands. Marketers recognize video's ability to accelerate the customer journey. Enterprises use video to train teams and engage employees. For publishers, branded video monetizes higher and is the best way to market their value.
Routine video publishing can place a heavy demand on the back end workflow as well as on the underlying CMS. Video marketers spend much of their day pulling assets from numerous systems and working with many collaborators. This modern marketing workflow can be inefficient both in creating content and maintaining an asset library across various systems.
So how do marketers successfully bring WordPress and video together?
Unify Your Content Management System and Online Video Platform
WordPress has been highly successful democratizing web publishing by allowing anyone to distribute content, of any kind, whether it be written, audio, or video. This accessibility hits a roadblock, however, when assets are managed outside of WordPress. Even with integrations, user interfaces outside of WordPress are confusing.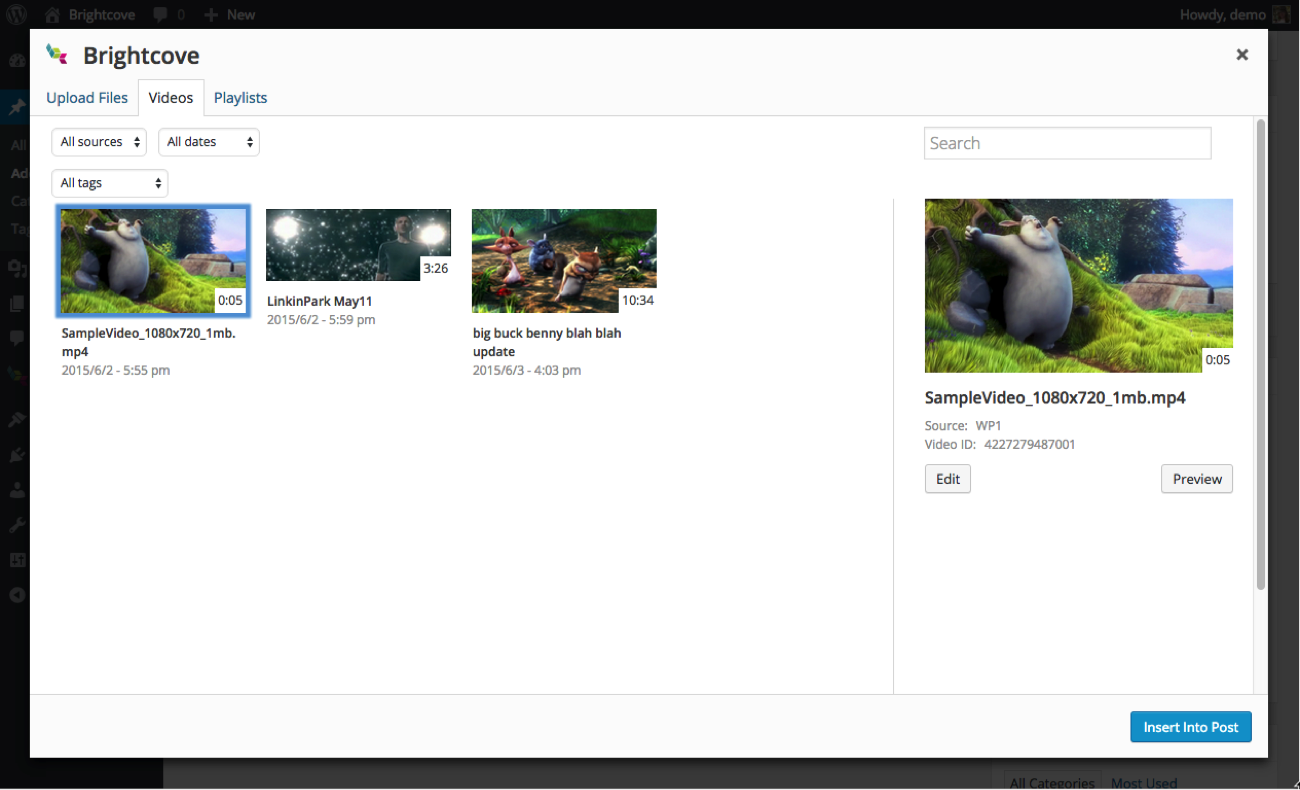 Organization can simplify their workflow with a single login for the entire video publishing workflow, built right into the CMS. For example, our web agency, 10up, has created a free, open source WordPress plugin that brings all the benefits of Brightcove video into your publishing hub. We use Brightcove Video Connect for WordPress, Brightcove's CMS integration, to help our clients streamline the video publishing workflow including access to assets and contribution by collaborators.
Allow Your Users to Live in the CMS They Love
Brightcove Video Connect brings together WordPress and Brightcove Video Cloud seamlessly. That means no more cutting and pasting video links between platforms! Instead, on the WordPress post edit screen, anyone may access Brightcove account assets. Simply click the "Brightcove Media" button. From there, what looks like the standard WP Media Gallery pops up, but with Brightcove video content. Your videos and playlists are there, ready to go live in your next post. What's more—you can edit any video details in WordPress and the changes automatically sync with your Brightcove account.
The interface for Brightcove Video Connect mirrors the WordPress media gallery. So WordPress users can start publishing Brightcove videos with little-to-no training. This familiarity allows editors can spend less time trying to figure out how to add videos and more time publishing great content.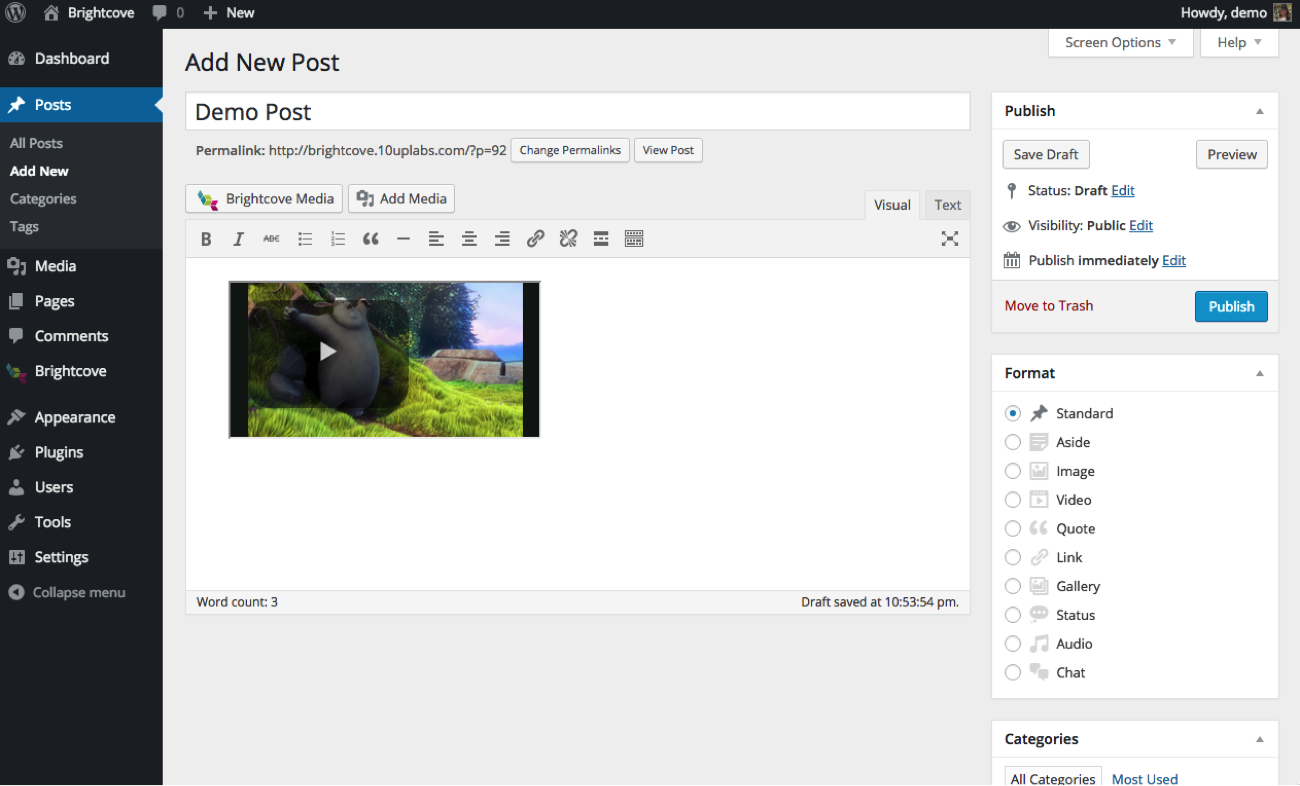 Brightcove Video Connect can be implemented on a single install of WordPress or scaled up to serve a multisite WordPress network. Even better, any Brightcove content details you see—video names, descriptions, meta tags, and custom fields—are 100% editable within WordPress. But if you'd like to make your changes in the Brightcove dashboard, these changes will sync bidirectionally between systems. You're up-to-date with minimal effort!
Begin Building A More Efficient Video Publishing Workflow Today
Are you ready to effectively manage video content across your organization? Ask yourself these questions to see if Brightcove Video Connect is for you:
How well are you using video today? Do your website editors have to request assets from another team?
Is this process efficient or cumbersome? Ask your teammates for their pain points with video publishing.
What's being delivered? Is it a standalone video file that requires embedding or code to be copied and pasted? Would you or your teammates need help?
Ready to reap the rewards of the Brightcove Video Connect for WordPress? Get in touch today to learn more. Keep your editors in WordPress—the platform they use every day—and empower them with video marketing made simple.