We designed PLAY TV as a place where you can hear from people managing change, using video, and looking at new ways to achieve success in our evolving world. This information is brought forward in a live and on-demand video format with a high-quality user experience across web, mobile devices, and TVs."
Sara LarsenChief Marketing Officer, Brightcove
PLAY TV IS ON
As the definitive new streaming service dedicated to all things video, PLAY TV launched quickly and soon began engaging a growing audience.
60 DAYS Using Brightcove Beacon, it only took 60 days to build from scratch
74 COUNTRIES In less than a month, viewers tuned in from 74 countries
DOUBLE THE AUDIENCE Created for attendees at a physical event, PLAY TV's subscribers are now more than 2X those attendees.
THE FIRST 24 HOURS Upon launch, PLAY TV had thousands of views of live streamed content
MULTIPLE PLATFORMS PLAY TV is on Web, iOS, Android, Apple TV, and Roku
3 DIFFERENT VIEWING EXPERIENCES Viewers can choose from curated channels, live programming and searchable video on demand
BEYOND INDUSTRY NORMS The Average Watch Percentage of videos on PLAY TV is 40%, far exceeding industry averages
The people who know video so well wanted to create a bold space where the potential and promise of video is never in doubt. This is why Brightcove® brought the world PLAY TV, the innovative over the top streaming service that is all about video. Having helped thousands of companies in over 70 countries across the globe with their video solutions, Brightcove has now packed that collective insight and knowhow into PLAY TV. This is not video-lite. This is a full-on, video experience, accessible in many formats, remarkably intuitive, with on-demand content, curated channels and the ability to live stream. For all those serious about video, welcome to PLAY TV.
NOW THAT'S FAST
As the COVID-19 crisis brought unprecedented challenges to the business world, Brightcove's annual conference transformed into an online experience. As this rapid transition began taking shape, Brightcove knew that its video insight and expertise was suddenly more vital than ever. "We were fielding calls from our customers and people across the industry," said Sara Larsen, Chief Marketing Officer at Brightcove. "They were asking how video could help companies and people connect in new ways." So the idea for PLAY TV was launched, a streaming service featuring inspirational and educational videos accessible on any mobile device or smart TVs. And this complete experience was launched in just 60 days. With the power of Brightcove Beacon™, 60 days was all it took to create this over-the-top platform reaching people on apps, web and smart TVs. What makes that possible? "Brightcove Beacon leverages industry-best practice designed templates," said Brenda Gradek, Vice President, Product Marketing and Go-To-Market Strategy at Brightcove. "So a lot of the heavy lifting in terms of coding is already done, and you get the benefit of a top notch video experience--so your main focus can be on content and getting to market fast."
We designed PLAY TV as a place where you can hear from people managing change, using video, and looking at new ways to achieve success in our evolving world. This information is brought forward in a live and on-demand video format with a high-quality user experience across web, mobile devices, and TVs."
Sara LarsenChief Marketing Officer, Brightcove
That's just what Brightcove was able to do. And remember, due to COVID-19, the entire team creating PLAY TV was remote. But that wasn't a hurdle, because Brightcove Beacon is intentionally designed to be user-friendly. "It's really an easy, intuitive tool," said Lexie Pike, Product Marketing Manager with Brightcove. "Our team was not specifically a technical team, but they were able to pick it up, work with it, and make content updates on the fly." They did it all in 60 days. And that means you can too.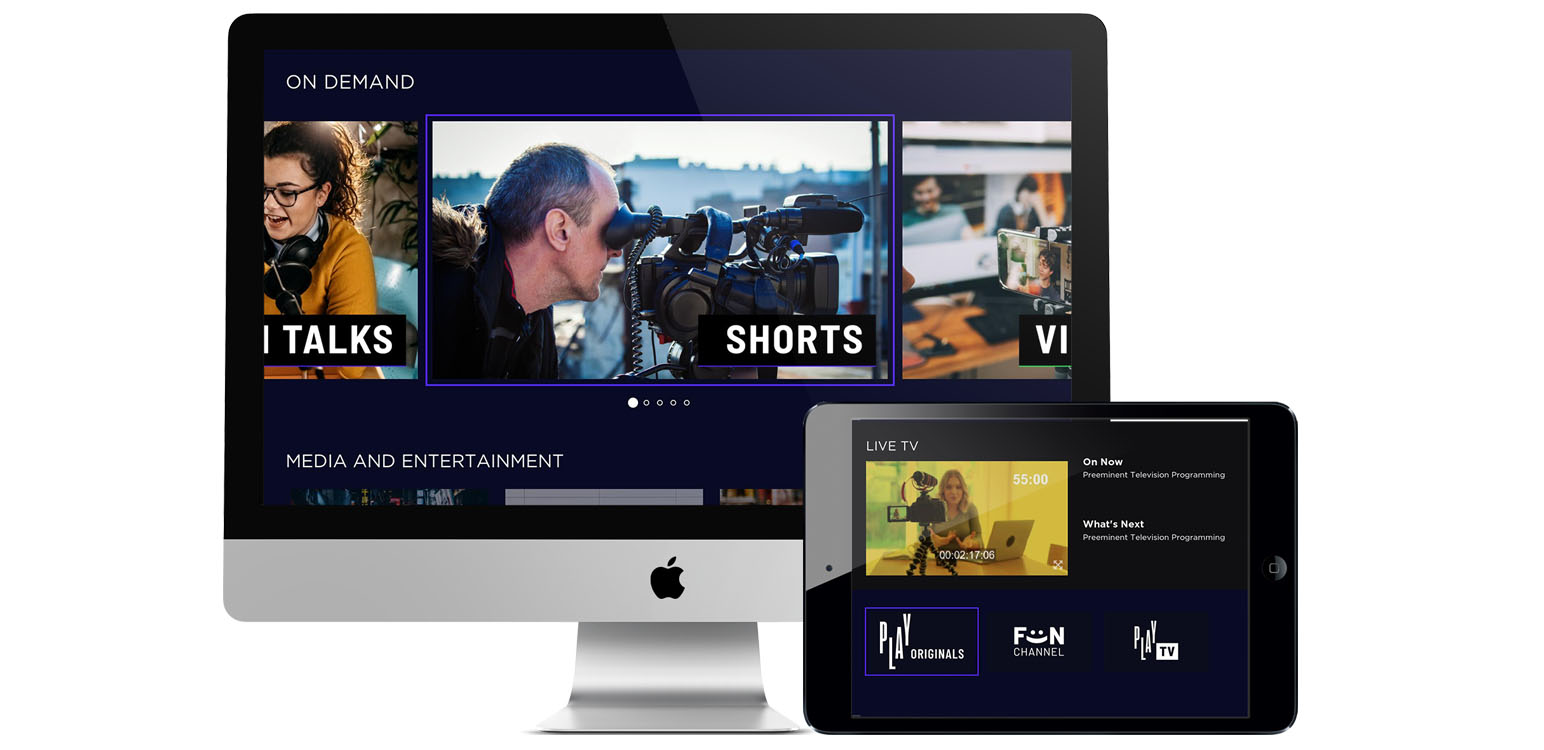 MUST WATCH
Keynotes. Interviews. Thought leadership. Customer stories. Video best practices. PLAY TV leaves no pixel unturned in bringing you the best and brightest from the world of video.
Recent features include the founders of Revry, the world's first LGBTQ streaming network, discussing their journey, and lead singer Ken Kasey of Dropkick Murphys relating how Brightcove live streamed a concert to 9 million viewers. As we all know, video has become the dominant force of communication in our modern society, and Brightcove is in the right place at the right time as it establishes PLAY TV as the go-to source for all things video. "Video has never been more vital to business than it is today," says Brightcove CMO Larsen. "With PLAY TV we are pushing video content to new limits by offering anytime, anywhere experiences to people who are serious about video."
PLAY TV was built in 60 days with Brightcove Beacon. And that's really the beauty of the Brightcove Beacon product--the ability to get to market quickly and easily. Because it's so adaptable and easy to use, even an inexperienced team can create an OTT app and get it up and running.
Brenda GradekV.P., Product Marketing and Go-To Strategy, Brightcove
WHAT'S NEW, WHAT'S NEXT
Other initiatives from Brightcove are also taking the lead in providing new ways for video to engage audiences. Brightcove Virtual Event Experiences is just one example, responding to our changing world with a solution that delivers high-quality events with bold, interactive experiences. Brightcove has powered critical business, consumer and entertainment events that have recently become virtual, ranging from the NAB Show express with over 40,000 industry viewers since launch to the Metropolitan Opera's At Home Gala, featuring more than 40 artists from around the world and watched by more than 750,000 people. Brightcove Beacon has made the launch of virtual events like these easier and more streamlined than ever before. As a powerful yet very intuitive solution, it enables your team to create content that will reach audiences on all different devices. It can be done quickly, simply, and without the need of any technical know-how.
As the world changes, life transforms and people adapt, one thing that remains a constant is the unmistakable power of moving images and sound. Brightcove is passionate about the potential of video, and we'll continue to deliver robust, scalable and intuitive video solutions for all those who join us in this belief.