CUSTOMERS /

DUNKIN' BRANDS
Video Is Making an Impression at Dunkin' Brands
In-House Production Team Makes Video an Essential Communications Tool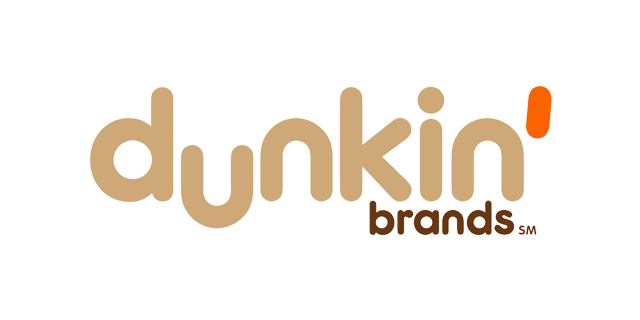 Video is bridging the geographic gap between the Dunkin' Brands corporate staff and its 2,000 franchise owners around the world. Video communicates key business messages and complex information to the company's worldwide network of franchise owners and field-based employees to ensure all stores implement programs and products consistently, maintaining the company's strong brand image and product quality.
Background
Dunkin' Brands, one of the world's leading franchisors of quick service restaurants, is the parent company of Dunkin' Donuts and Baskin-Robbins. The stores are nearly 100% franchisee owned and operated, which makes communications both imperative and challenging.
The company's Corporate Communications Department manages franchisee and corporate employee communications, delivering information on a wide range of business topics, from corporate strategy and operating plans to new products and processes. The department maintains a rigorous schedule of regional meetings, email, and newsletter communications to cultivate a close relationship with franchise owners and keep them in the loop.
Video is quickly becoming a preferred mode of communications for many initiatives and programs that just don't come to life through PowerPoint presentations and printed materials. "Video grabs attention and delivers a consistent, clear message," explains Glen Schwartz, Director of Corporate Communications. "With video, we can transform dry messages into compelling demonstrations."
For the recent launch of a new frozen beverage platform, Corporate Communications needed to convey to each franchisee what ingredients were in the beverages, as well as demonstrate how to set up, use, and clean a new frozen beverage machine. Plus, they needed to explain the strategy behind the new platform and the return on investment for the franchisees in offering the new beverages.
"When we cannot put an expert in the room, video becomes the source of expert information," notes Schwartz. "It is much easier to demonstrate the new frozen beverage machine on video, what it does and how it works. Video can be viewed repeatedly and shared, so it has a longer life."
Video also helps build closer relationships between the franchise owners and Dunkin' Brands' leadership team; they cannot always be in the field, but they can talk directly to owners through video. "We can put our CEO and senior management in the studio, they can discuss key messages for 3-4 minutes, and it is a way for owners to hear directly from them," explains Schwartz. "Video also lets us tailor the messages. If our CEO wants to deliver a focused message to each region, he can record four or five different messages, and we can distribute them as needed."
Building In-House Video Capabilities
Transitioning to a more video-centric organization has taken a combination of leadership team support, long-term planning, investment, and training. "Four years ago, we were just starting to scratch the surface with internal webcasting," notes Schwartz. "We were relying on an external vendor, and it was costing an extraordinary amount of money to do each live broadcast at an off-site location."
In an effort to increase the use of video and save money, Dunkin' Brands decided to build an in-house video production capability. They tapped Tyler Cyr, an existing member of their Corporate Communications staff, to get the program off the ground. Cyr trained in videography and video production, purchased equipment and a green screen, and began producing videos in a conference room.
The real breakthrough came in the summer of 2015, when the company built a dedicated production studio in its newly renovated corporate headquarters building. Today, Cyr, Digital Communications & Creative Production Manager, is responsible for the creative vision, and is supported by a full-time videographer/editor. The two-person team currently produces, on average, two videos a month, in addition to supporting live webcasts. "People have come to expect a quality finished product, and they know we turn around projects quickly," states Cyr. "Video has become a regular and expected communications vehicle."
Dunkin' Brands also uses video to extend the viewership of webcasts by breaking them into shorter segments. Posting the shorter segment videos on its internal portals for on-demand viewing enables employees and franchise owners to readily access leadership messages, new employee programs, and quarterly meetings in shorter chunks. Recently, the team repackaged video content from a roadshow that the CEO and leadership team conducted to present plans for the new fiscal year. "We split the content into smaller video segments focusing on each presenter, and put them on a dedicated player," explains Schwartz. "Viewers can choose the specific video segments they want to watch. It is a very convenient way to digest the information."
"We're seeing increased interest from internal departments because we can save them money on video production," adds Schwartz. "They know we have the equipment and facilities, and Tyler has built relationships within the company. He has an impressive body of work to show." In addition to franchisee communications, the team has begun producing videos for Human Resources, Operations, Store Development, and IT.
"Now that we have built organic demand for video, we have to manage the requests," Schwartz remarks. "We have to make sure the videos support our corporate goals and initiatives, and educate, train, and drive franchise owners and employees to embrace and adopt new programs, products and tools."
Videos Are Easier to Access, Replay, and Share
As Dunkin' Brands built a library of video assets, they began looking for a more efficient way of hosting video. Early on, using existing cloud storage, Schwartz added links to videos in emails and newsletters, but this was not the best method for franchisees to access the videos.
Due to the limitations, Schwartz decided to make videos a critical part of a new Franchisee Portal that would soon launch. He turned to Brightcove to power the portal. "We were starting to produce a lot of content and needed somewhere to host our digital assets. Brightcove makes it easy for franchise owners to view and replay videos. The owners really like having video on the home page." And, viewership is rising; most franchise owners are viewing the videos that are getting published on the home page.
Using the Brightcove Online Video Platform, Dunkin' Brands is integrating video into four different corporate players between their corporate employee and franchisee portal sites.
"We have four Brightcove players embedded into our portals. The players allow viewers to easily find and watch videos on our page; it enables them to view the feature video and scroll through other videos in the archive," explains Schwartz. "The ability to embed the Brightcove Player into existing sites makes it easier for us, because our assets are already part of that site."
The Brightcove Player is mobile friendly, so Dunkin' Brands is also embedding video into newsletters, which franchisees can click on and view on their mobile devices. Schwartz notes that using Brightcove enables his group to take advantage of mobile capabilities without making a major investment in website upgrades.
Based on the increasing number of videos that its small, in-house team is producing, the Corporate Communications Department estimates it will take less than two years to see a return on its investment on in-house production capabilities.
"By bringing video production in-house, we have reduced the cost of video, making it both a practical and invaluable communications tool," concludes Schwartz. "We're seeing an even greater return on our video investment by increasing the company's engagement with franchise owners and delivering more compelling messages with greater frequency."