When was the last time someone from your company had a real-life superfan? Well, if you work at Tableau, then the answer would be last November.
That's when the software company hosted its annual conference, drawing nearly 15,000 "data geeks" to chat about data analysis done the Tableau way. The software allows customers to make sense of its analytics and then use those learnings to create opportunities for advancement. At the 2016 conference, one attendee was so enamored by the work of Tableau's Product Training Specialist, Lari McEdward, he asked for a picture.
"He heard I was the video person [at Tableau]," says McEdward. "And he was so excited about my videos that he sought me out in a crowd of 15,000 people for a selfie."
If that isn't a testament to the power of video, we don't know what is.
This past May, McEdward joined us at Brightcove PLAY to chat about her chance brush with fame, plus how she's helped reshape Tableau's video strategy to drive more leads, convert more customers, and impact far more people than by traditional marketing efforts alone.
"We figured if we can teach people to use Tableau, then they'd be successful," says McEdward. "And if they're successful, then they'll be happy. They'll spread Tableau around their organization and become impassioned members of the community and champions of our products. And so far, it's pretty much worked out that way."
When joining Tableau in January 2014, McEdward inherited a rather inefficient video strategy. The video library consisted of two categories: intro and advanced. And the amount of assets within those buckets totaled far too many to count, with play times ranging anywhere from two to 25 minutes long. Instead of a dedicated staff, eight or so freelancers crafted video content with little collaborative input. As a result, instruction styles were different and coverage was duplicative or full of holes, according to McEdward. Considering everything in front of her, she made it a mission to identify an efficient, well-oiled video strategy to drive results.
She began by focusing on three main objectives: (1) build an overarching curriculum (2) create a consistent identity across all video content, and (3) designate a single place for users to access all information. From that point, McEdward went to work planning the new material, writing video scripts, designing visuals, managing video publishing, and administering her own server.
Going back to her experiences as a professional tutor, she based Tableau's video curriculum on scaffolding and online education best practices. Here's what she came up with:
First, she made sure videos were short, lasting around five minutes each.

Second, she created each video as stand-alone modules concentrating on a single concept. While several videos might tie together under a larger topic, each one still existed as a solo lesson.

Third, she cross-referenced related videos when possible, maintaining continuity.
The result? A smashing success. After implementing the new and improved video strategy, McEdward saw her videos didn't just reach more people; they were also significant drivers of conversion.
However, Tableau's video wizkid is quick to point out that video isn't the only reason for the company's marketing success. More so, it's because of Tableau's approach to authentic, personalized communication. McEdward explains:
"It's an effort we call 'custom(er)ization.' We're helping make customers successful by treating them less like a prospect and more like a human being. We're focusing less on selling and more on education."
Tableau has already received hugely positive feedback from customers, partners, job applicants, and industry analysts, among many others. It's this vibrant, engaged community that McEdward continues to foster with her strategically designed video content.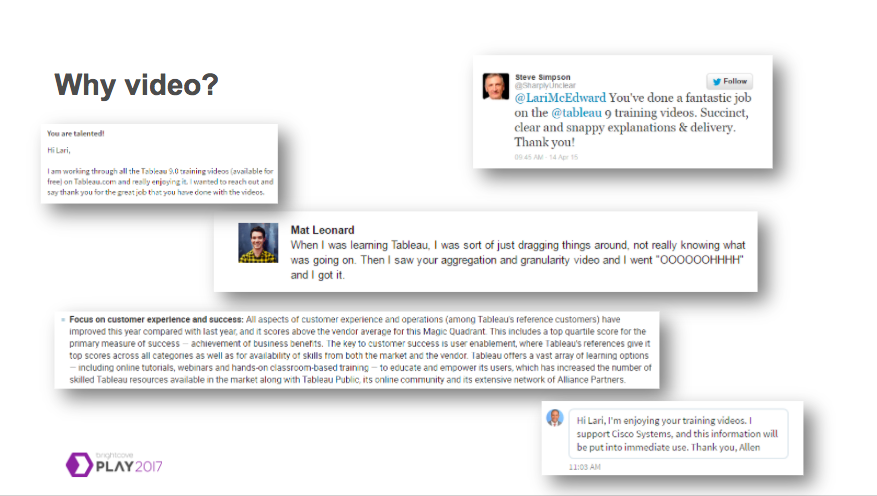 Want to hear other interesting ways that video has helped shape companies for the better? Join us next year at Brightcove PLAY 2018. To get on the invite list, just RSVP to play@brightcove.com from your work email address.

And click here to learn how Brightcove can help get you great results with video.