In 1976, Prince Charles of Wales had completed his duty in the Royal Navy, and had the idea to create a trust dedicated to improving the lives of disadvantaged young people in the UK. Founded in 1976, The Prince of Wales' charity, The Prince's Trust, has since helped 825,000 young people and supports over 100 more each day.

Last year, The Prince's Trust helped more than 56,000 young people turn their lives around. This year, the goal is to help 60,000 vulnerable young people believe in themselves again and take steps towards a better future.
The Prince's Trust Macquarie Youth Index for 2017 takes an in-depth look into the views and outlooks of young people aged 16 to 25 across the U.K., and sadly shows that the overall well-being of young people has dropped to its lowest level since the study was launched in 2009. With this climate, the work of The Prince's Trust to help disadvantaged young people change their lives and get into work, education, training or volunteering, becomes even more important in addressing and reversing the decline as documented by the Index.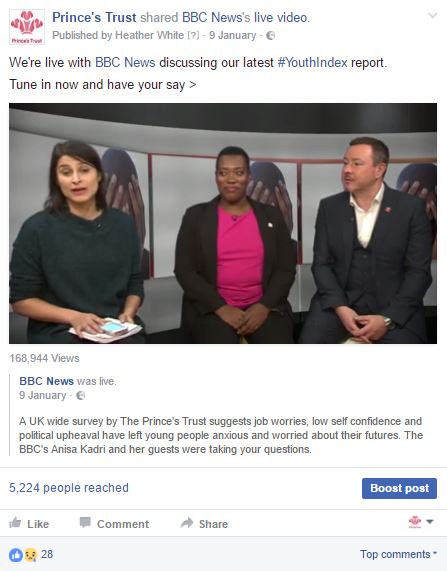 An ambitious and innovative organization, The Prince's Trust is constantly seeking new ways to provide even better support to these young people. Video is increasingly used to generate awareness and build an emotional connection with its cause. One extraordinary benefit of The Trust's video storytelling initiatives is empowering the young people to share their stories through video. 'Parallel Lives', a campaign created to raise awareness of The Trust's mission and accomplishments, dramatized the charity's impact on young lives by following a fictional character through two parallel paths in life. One path featured the life she achieved because of the support of The Prince's Trust, while the other path showed what her life would have been like without the organization's support. This long-form video campaign had a 78% completion rate, and reached 24 million people across all media, generating 390,000 online views. Over 1,600 new supporters signed up to The Prince's Trust community as a result of the campaign, generating the greatest number of sign-ups of all activities that year.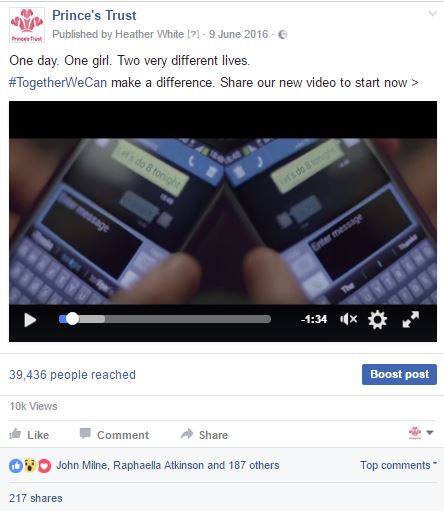 The Prince's Trust uses video in a variety of ways to inspire individuals and organizations to donate, volunteer, raise money, and get involved, creating life changing opportunities for thousands of young people.
The Trust is transformative and The Prince of Wales himself says how it really is possible to turn young people's lives around - giving them self-confidence, self-worth and self-esteem.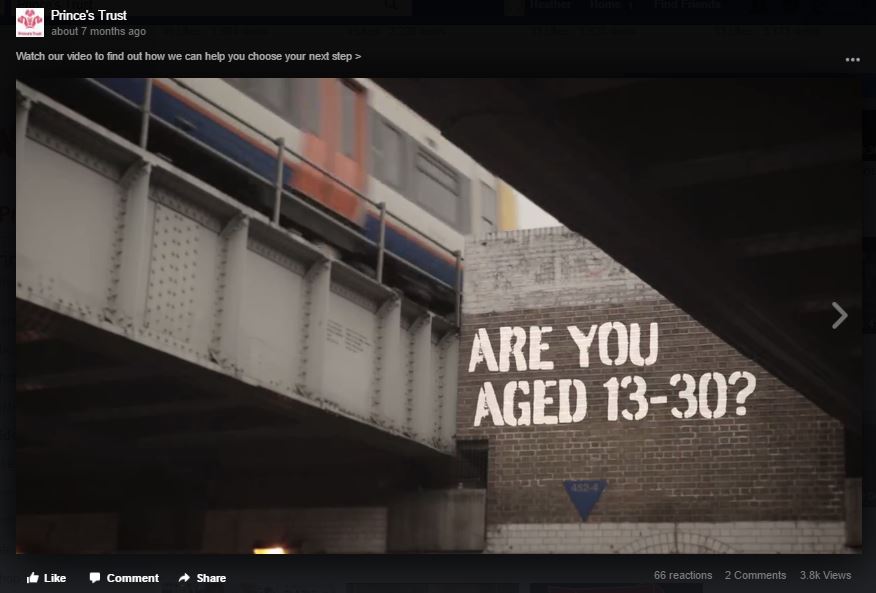 For more information about The Prince's Trust's innovative approach to online video, read the full case study here.
Learn more about The Prince's Trust here.