What is engagement? This intangible has been the scorn of digital marketers going on a decade. It's what we promise our clients, our bosses, and ourselves.Yet for all those promises, it's almost become a running joke, a punchline among marketers-- that is, until we see someone do it really really well. Admit it. We've all had those moments, ogling someone's numbers during a presentation at a conference. Well, what if I told you, with the proper planning, you could be that marketing hero?
The goal of an engagement campaign is to break out of segments and connect with individuals through personalized messages, leading down a prescribed path to conversion. We're going beyond the handshake or a broad introductory video-- it's time to talk about something. The conversation should occur across channels, with behavioral data to ensure messaging is "where" the audience is (email, social, web), and that it is consistent. Every business' engagement stage varies depending on how long it takes a prospect to become comfortable with your brand's offering, By building profiles on individual prospects (based on interactions tracked via marketing automation and CRM), you can make conclusions about content interests.

In the following post, we'll outline what kinds of video formats work best for engagement, the type of content that works in this context as well as where to publish these, and lastly, how to measure the impact of a video engagement campaign. Let's dive in.
Why Video Works in the Engagement Stage of the Customer Journey
Why does video work? Because you can't look away! During online research, video is the best way to educate and inform potential prospects. Video is time sensitive in a distracted world, so vital information can still pass through. The average time watched is 2.7 minutes of video, the perfect length to discuss complex concepts succinctly. Consider longer, research-oriented videos such as an explainer video, tip series, how-to/tutorial, or a webinar. This informative type of video content allows the viewer to make a purchase decision later, easily and with confidence.
How To Create a Video Engagement Campaign: Key Questions
Educate, inform, delight. Again, you've heard it all before. Our advice? Distill what is unique to your business and differentiates you from your competitors. Depending on the context, there's no need to lead with it, but add this as a central theme to your video stories. Not feeling inspired? Sometimes marketers fear specificity, they fear they'll diminish their pool of potential leads but true conversations require substance. With this in mind, consider the following engagement strategy questions and get ready to see MQL scores improve across the board.
How can you use these videos to create a two-way conversation?

What is the purpose and specific goal for each channel within the video engagement strategy? How can each be used to get the most information possible about your leads?

Which videos would benefit from interactive elements? How many choice points or questions/answers will you plan for these videos? (Don't overwhelm your prospect, but rather let them choose their path.)
A video engagement campaign is the perfect opportunity to create a 1:1 conversation with video. Interactive video content puts your user in control but you get more information on each individual prospect through advanced analytics. Consider adding chapters to your video and then analyze the subject matter that most resonates with viewers to make more intelligent content decisions. What kind of content should you create? After an initial chat, what are the kinds of questions your prospect would be likely to ask you? Not sure? Talk to your sales team. Think, "HOW?" How does your product or service fit into their lifestyle or workflow? Your prospect is starting to warm up to you, it's time to educate.
Where to Promote Your Video Content
In our Video Marketing Hero's latest guide, Strategies for Video Marketing Across the Customer Journey, we've included handy charts so at-a-glance you can understand what you should post and where. As you can see, awareness channels like social media and blogs still perform well in the engagement stage as the conversation evolves. Email marketing, however, is a vital component in engagement, of which we can now start to take advantage. In fact, video in email raises click-throughs by 55%! Whether acquired through blog subscription or events marketing, a high-quality email list slims your potential audience to those most receptive to your message, fast tracking the shift to the conversion stage. Give them something worth opening.
As for landing pages, these are one of our best indicators of engagement. Landing page conversion increases as much as 86% on pages with video. Video emails and landing pages together are a super effective warm-up to a conversation with sales. Convince your audience why they should choose you over others.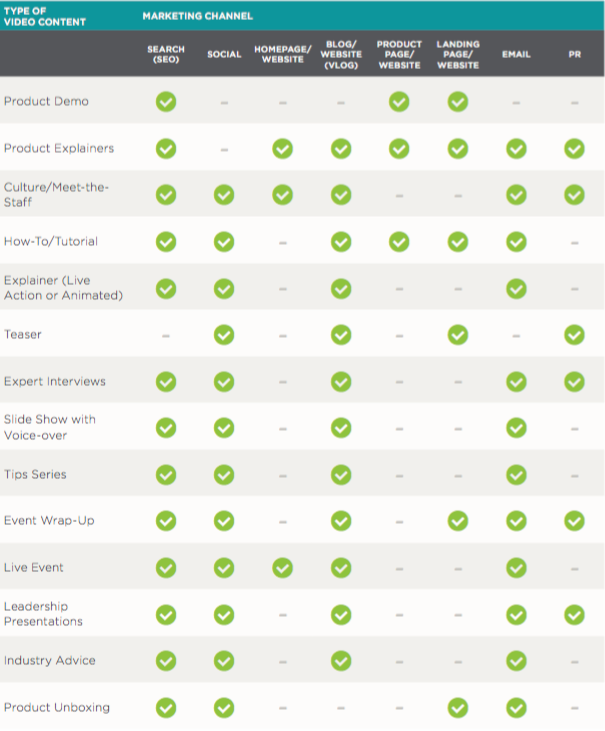 What to Measure: Key Metrics for a Video Engagement Campaign
Engagement. What happens between the buzz of awareness and the cha-ching of conversion? Let's make it tangible.
Difference in time-on-site

Average number of product pages or product videos viewed per session

Rate of video completion and recommended video click-throughs

Number of email opens, CTA clicks, and landing page visits

Total video landing page form completions

Retweets, likes, and shares on social media.
Last, our most important video-specific analytic, engagement score.
Sophisticated video analytics let you know not just "video plays" but also total consumption and drop-off rate. The engagement score is the result of dividing a video into 100 equal segments (100%), and tracking how many people watched each of those segments. This information tells you where viewers may have jumped ship before completing the video. One of our customers used this information to discover most viewers only made it through about 80% of the video. What happened? Their message drastically shifted from that of a storytelling narrative to that of a hard push for a sign-up. Their viewers were turned off and therefore, turned them off. It's not hard to see why. A new version was published, however, editing that overly strong message out and markedly improving video completion!
As we mentioned in our video for awareness campaigns blog post, monitoring these KPIs means continually reviewing Google Analytics and integrating your online video platform with your CMS. From there you'll also need to make sure your CMS and marketing automation platform (MAP) are integrated so emails are reaching the right recipients and that nurturing campaigns intelligently send relevant and action-provoking video. This continued interaction moves viewers to the conversion stage where we utilize video's natural energy to compel conversion. Adding rich video analytics with a focus on engagement makes this possible through robust user profiles.
Sounds pretty serious right? Video engagement, we're not joking around anymore.
Create videos for each customer life cycle stage