Video has started taking center stage in content marketing campaigns for an ever-increasing number of brands in Asia. At the recent Content360 event in Singapore, brands and agencies shared campaign success stories about harnessing the power of video to engage with their customers and build brand equity. At the event, Brightcove presented on how to create a blended video marketing strategy. Below are three key learnings from the event, specific to video distribution and consumption.
Blended Distribution Expands Your Audience
In a recent blog post, I explained Brightcove's blended video strategy -- publishing video content beyond YouTube and Facebook channels. Simply put, a blended strategy encourages brands to combine the power of free and premium online video platforms (OVP) to achieve optimal video marketing campaign results.
Phil Townend from Unruly Media spoke at length at Content360 about video content promotion. Citing a comScore Video Metrix study from 2015, Unruly Media told us 70% of video viewing happens outside YouTube! In fact, 27% of videos are watched on YouTube, 17% on Facebook, and 55% elsewhere on the open internet.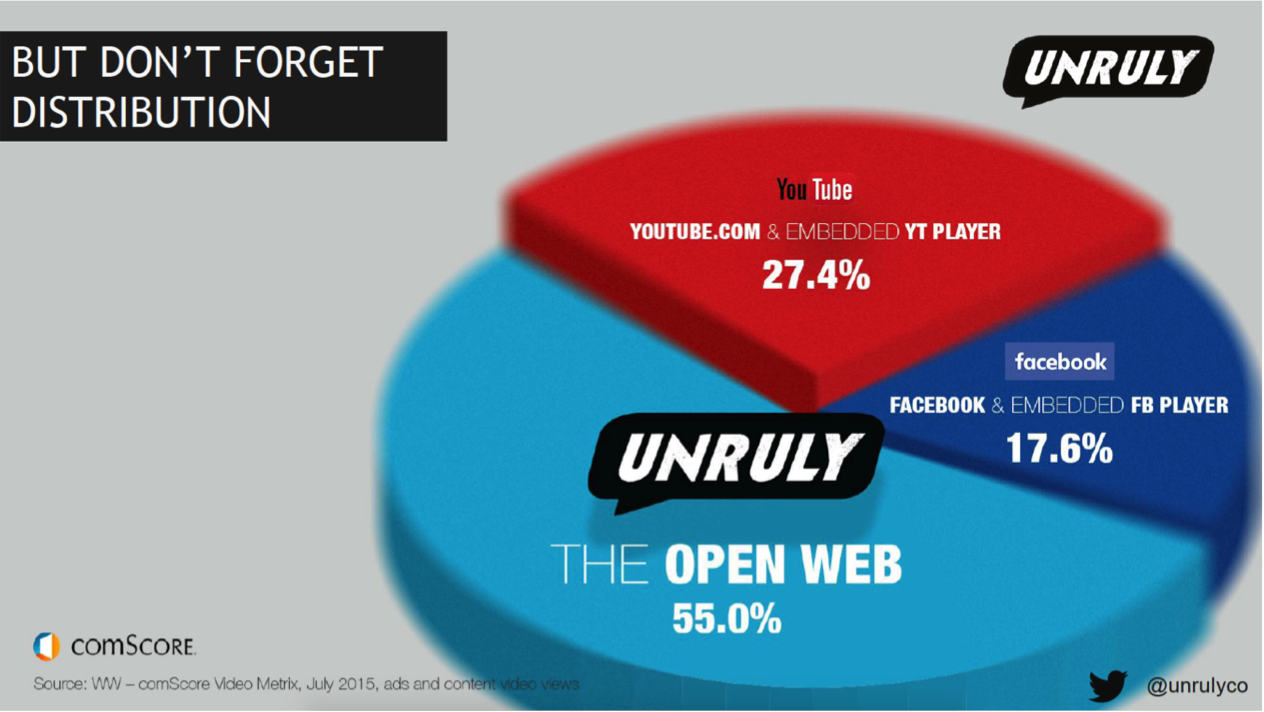 Photo courtesy of Unruly Media
Given these stats, it is clear that brands should not limit themselves to distributing videos on free platforms alone. After investing time and resources in producing fantastic video content, reaching a mere 27% of the audience is hardly an acceptable result.
Video Views & Shares are Not Conversion Metrics
Video has the power to engage and convert, but it's common for marketers to create a video marketing campaign for the awareness stage, publishing it on a free OVP, only to measure success by counting views and shares. How are views and shares meaningful if they are not directly tied to business results? Conversion, often a forgotten aspect of a marketing campaign KPI, is critical
Marketers need to realise that attention span is no longer a commodity, but a premium. How do you keep it? Free OVPs are intended for discovering and reaching new audiences. Once the audience is engaged, guide them to the brand's website to execute on a specific, meaningful call to action, that is tied directly to business results. According to Online Publishers Association, 46% of users take some action after viewing a video. By using a premium OVP, brands can take conversation further with customisable video calls-to-action.
Timi Siytangco of Outbrain illustrated video conversion with examples from Macy's and Babble. Both brands invested in the power of sponsored content, distributed by Outbrain. Both brands:
Drove all video traffic to their own site
Hosted their video experiences with a premium OVP
Managed audience interaction with their organizations in a branded video environment
Measured campaign success by analysing the conversion rate
Ad Blockers Force a Better Content Strategy
According to a study by Accenture, 42% of consumers will pay to block ads. That is enough to make any digital marketer have a panic attack about adblockers right now.
At Content360, Unruly, Lego, and Tickled Media sat on a panel to discuss the arrival of ad blockers and strategies for brands to combat them. The consensus in the room was that brands, like publishers, need to ensure they are producing content that genuinely interests and engages consumers instead of inundating them with irrelevant and interruptive content.
Brands agreed that they need to rethink their content strategy and produce personalized video content that engages, inspires and influences the audience. Take the sports apparel brand Under Armour and their recent "Rule Yourself" campaign. At first glance, you would expect a typical ad campaign, but instead, the video ad empowers the viewer by featuring top US sports celebrities. The apparel worn by the athletes is a secondary message.
Another workaround is instream stitching of ads. Thirty-second in-stream mobile video ads have an 88.3% completion rate according to Rhythm OneInsights. In-stream ads have the capacity to stop interrupting your audience and add to their viewing experience.
Aside from these takeaways, there was a crucial learning almost everyone in the room agreed upon - the power of experimenting. So here's an experiment for you - try the blended OVP strategy for your next video campaign, and tell us how you fared!
Learn How Online Video Can Boost Sales