If you're not familiar with Brightcove Audience or how to integrate video analytics with marketing automation, then you are not fully tapping the potential of video in your marketing strategy. When we launched Audience, we opened up the the ability to incorporate video viewing data into marketing automation platforms. With this integration, you can identify which video(s) an individual watched, how much the person watched, marry that information to their contact record in your marketing automation platform, and respond accordingly.
Having said that, the Brightcove Audience module continues to grow and develop to provide new features and functionality to help you with your marketing efforts. If you're already using Audience, you have access to all of these new features today.
Custom Lead Gen Forms
You've always been able to build lead gen forms in Audience that appear directly in the video player. Audience then collects these leads and sends them to your marketing automation platform.
We've now added the ability to paste in HTML from third-party forms. For example, you can create a custom form in your marketing automation platform and simply drop the embed code into Brightcove Audience. This feature allows you to accomplish advanced marketing functions such as lead routing and progressive profiling directly in the player, whether it is embedded on your home page, social media channel, or a third-party web page.
New Eloqua Content Service
For those of you using Eloqua as your marketing automation platform, there is now a content service built into the Eloqua user interface that shows up under the "Cloud Content" and allows you to add a video to your landing page directly from within Eloqua. Simply drag it onto your page, double click it, choose the specific video and video player, and you're done!
Dashboard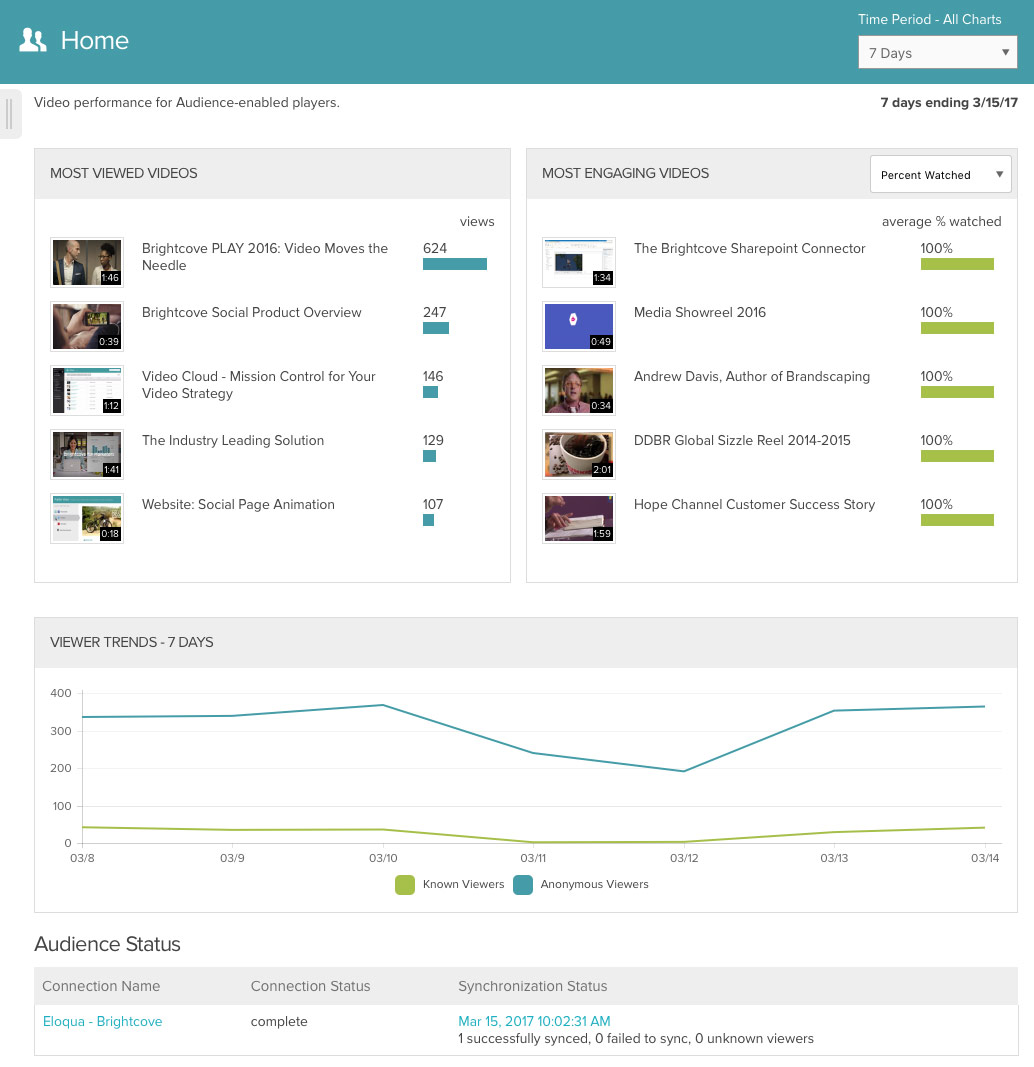 We've listened to our customers. You asked us for an easy way to visualize the data being gathered in Audience. In response, we have created a shiny new dashboard found in your Audience tab. You will be presented with a quick view of how your Audience-enabled players are performing.
Quickview reports include:
Most viewed videos

Most engaging videos

Viewer trends
You can view various time frames of 7-day, 30-day, and 90-day time periods for each report. Make this dashboard your first stop each day to quickly identify trends or anomalies in your viewers' viewing habits and respond appropriately before diving into your day.
So if you're already an Audience customer head on over and check out the new dashboard for yourself! If you're not, let us know, and we'd love to show you what's possible when you combine video metrics with your marketing automation.
Download the whitepaper, "4 Must Do's For the Modern Marketer"