Google announced the Accelerated Mobile Pages Project (AMP) in October of 2015, and Brightcove quickly made available a component for our video player that would support the shared objective of ensuring super fast user experiences on the mobile web.
This week, Google's search results on the mobile web started calling out AMP-compliant landing pages from publishers who had taken steps to optimize their site to the AMP spec. Below are two searches I did on my phone that generated some of these results — and they happened to be from great Brightcove customers including Time Inc., The Atlantic, Gannett, Vox, and Forbes.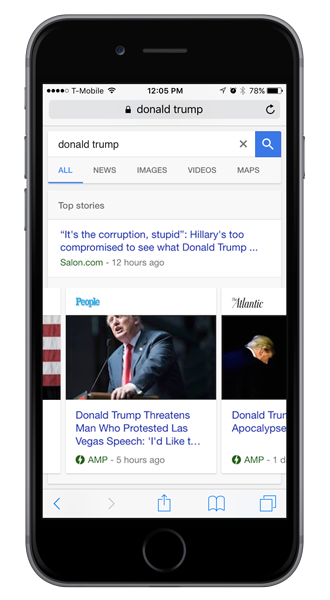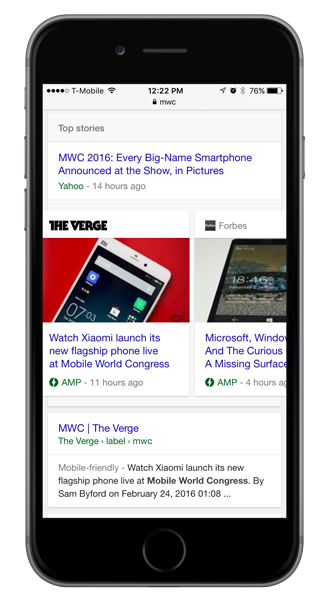 What AMP does is that it optimizes the way page elements load to deliver the best viewer experience possible. Brightcove's AMP component is a different player embed code that we're offering for use in AMP HTML pages, should customers wish to support the initiative. We made the AMP HTML component available to ensure that the player is compatible with the AMP specification and that any page where it is featured will be understood by Google as being AMP-compliant.
"A key goal of the AMP Project is to make the mobile web super fast while keeping the amazing diversity of tools that the open web has to offer," said David Besbris, VP of Engineering at Google. "It's great to see Brightcove's leadership in advancing the open source AMP effort."
Our current understanding is that AMP is rolling out worldwide this week with the exception of Australia where it is expected to debut in late March.
One customer who is live with AMP and Brightcove players in EMEA is La Stampa. Here's an example of one of their AMP-compliant pages with video (the point is to view it on a mobile phone over HTTPS). Said Giuseppe Covato, Head of Technology Innovation and Development of La Stampa, "We know our users value experiences that look great and load quickly even on the mobile web and so we were excited to embrace Google's AMP initiative. Brightcove's creation of an AMP component for the video player we use ensures that even our video-centric pages are fast and AMP-compliant."
To get the AMP component for the Brightcove player, please click here.
Learn more about Brightcove's leading HTML5 player Brightcove Perform