Social Video Series: Take a deeper look into how adding Snapchat to your video mix can significantly elevate your digital presence, build new audiences, and extend your brand.
Snapchat may be the missing piece to the puzzle for presidential candidates. Reaching the youth vote is a challenge that political campaigns struggle with every election. With the right marketing strategy, candidates could swing some states red or blue with the millennial vote. Politicians have noticed the power of Snapchat and its attraction to younger voters. They are making moves to take advantage of that power. Snapchat's 18-34 year old demographic is now getting a front row seat to the presidential race. Through Snapchat's "Live" feature, candidates such as Hillary Clinton and Jeb Bush have recently got in front of the eyeballs of over 100 Million viewers.
By using the "Live" feature in Snapchat, a candidate can create a digital boundary around the location of the event. Then, attendees post videos or photos to the "Live" event via Snapchat. Snapchat curators string together the event's videos and pictures to create a "story" that is uploaded in real-time to over 100 Million Snapchat user feeds worldwide. Recently, Snapchat users witnessed the "Hello, Hillary 2016" live story, showing videos from Clinton's rally in Roosevelt Island. Jeb Bush's campaign introduced the "Campaign 2016" live story, showing Bush's candidacy announcement event in Miami. Both of these live stories were seen by millions of Snapchat users.
In an article by TIME, Rand Paul's digital strategist Vincent Harris said, "Many younger 'off-the-grid' voters aren't consuming traditional news outlets and are increasingly using platforms like Snapchat as their source of information..." Harris also said that Rand Paul will continue to use Snapchat in his future ad campaigns.
The true success of these campaigns remains to be seen, but if campaign managers continue to choose Snapchat for spreading their message, it is a safe assumption to say it is contributing to results with the Snapchat target demographic.
If Snapchat works for a political campaign, the opportunities for major brand campaigns are endless. Connecting with millennial consumers via Snapchat is a valuable interaction for both parties. The intimate live connection and crowdsourced content helps get a branded message to a target audience in the blink of an eye. Taco Bell, MTV, and GrubHub are a few brands that are emerging as Snapchat rockstars. GrubHub even found an intern by using the app's capabilities (see below)!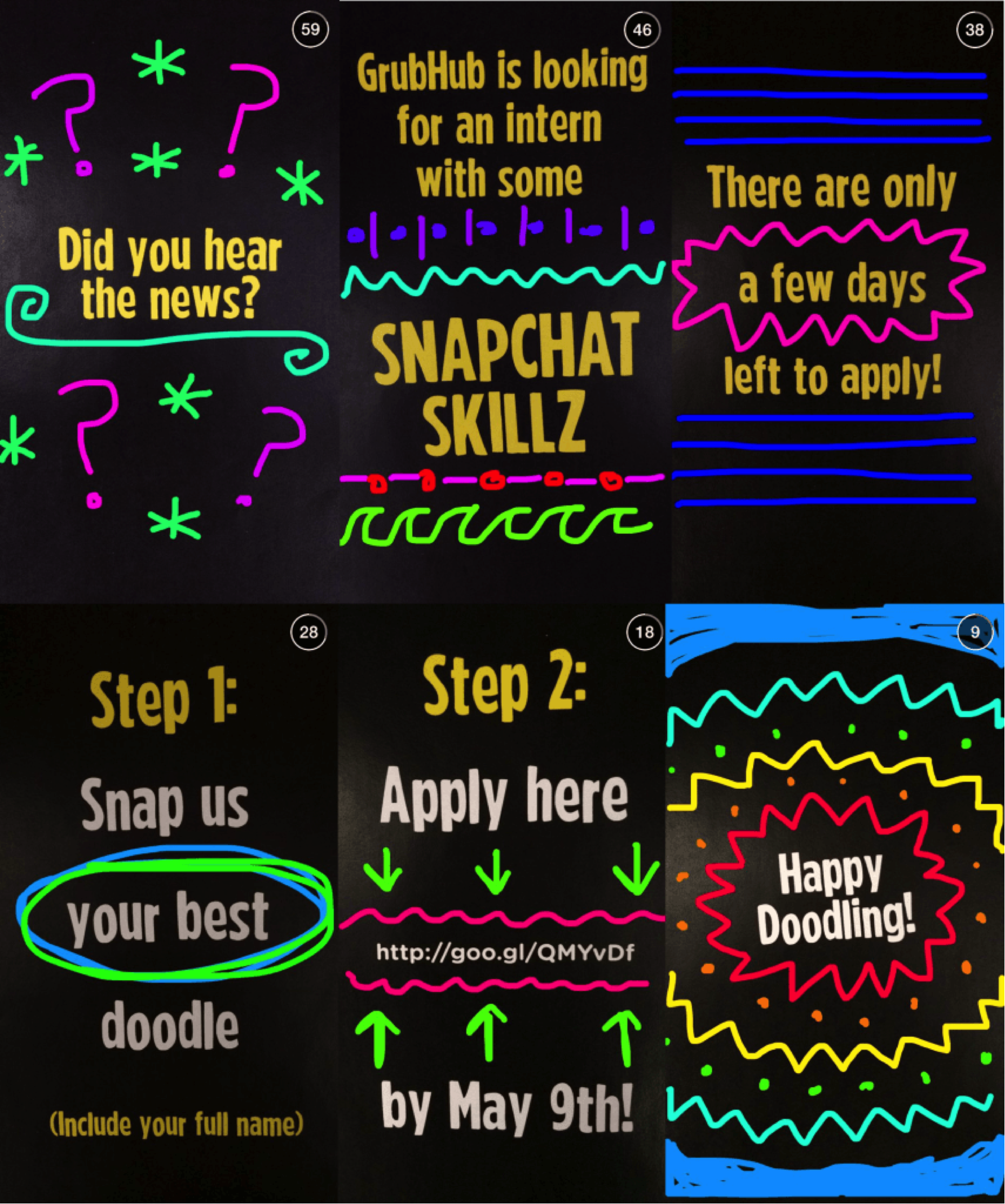 Snapchat is a great way to feed content to the millennial audience. Whether it is a behind-the-scenes video, an up close interview with a presidential candidate, or even searching for your next intern, the possibilities of Snapchat are endless and continually evolving.
Stay tuned for our next post on how marketers can implement Snapchat into their social video strategy!
Learn how to master video distribution in the Hero's Guide