Delivering a live stream for an event is on the wish list of many marketers - and for good reason. Live video is proven to captivate audiences by providing a time-sensitive destination and the ability for your viewers to be the "first to know." If it wasn't so effective, we wouldn't expect companies like Apple to live stream their major product launches. Live streaming video can take your video marketing to the next level, but it can be intimidating to marketers. Marketers must stream their video in high quality AND create an online destination that engages their audience. Marketing best practices dictate you engage your audiences before, during and after the live event.
While this responsibility may seem daunting, don't be intimidated! With the new Gallery Live Event template, Brightcove customers can now manage a complete live stream and create engaging video experiences for their audience.
The new Live Event template is built within Brightcove Gallery, our video experience publishing tool. With it, marketers and corporate communications professionals can promote and publish live streamed events with an easy-to-use template and without any dedicated IT support. When used with Video Cloud Live, you can easily set up and deliver your live event stream to the web, iOS, and Android devices. With this combination, marketers now have complete control of their live events so they can take their live events to the next level and drive marketing results beyond just event attendance. With the Live Event template, you can drive audience engagement with scheduling, social and chat integrations before and after the event, sponsorship opportunities (both within the video player and on the page level), and even event monetization with calls to action and advertising space.
Clearly, there is a lot of awesome functionality packed into this Gallery template. Let's take a closer look at three ways Gallery can take your live event streaming to the next level.
1. Create buzz early and often with a pre-event page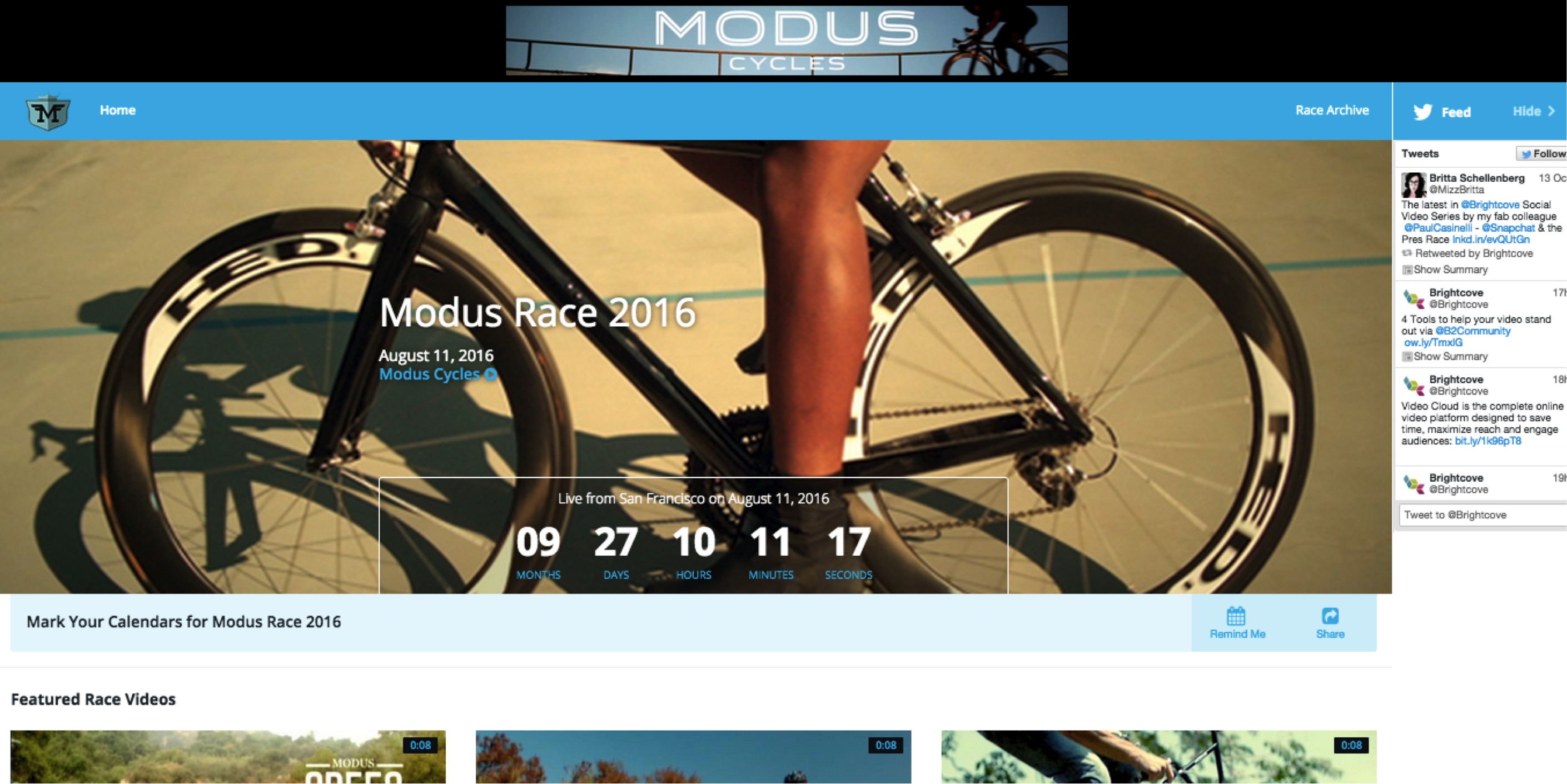 It is important to create a destination for your live stream. If you only create a web page the day of the event, you have to do all your promotion in real-time. And, if you have a webpage with your video player, you have to add widgets and functionality that engage your audience before the event. Plus, once the event goes live, you need to make a quick switch to the live stream page. If that sounds like a lot of moving parts and steps that take a lot of time...that's because it can be.
Fortunately, the Live Event template makes the pre-event tasks easy so that you can focus your resources on the event itself. The pre-event page creates the destination for your live stream so you can promote your event early and often. Once your visitors go to the site, the pre-event page has awesome out-of-the-box features like a countdown clock and calendar event download. Also, no pre-event page would be complete without the ability to capture information about your potential audience and view their social engagement. The Live Event template has both lead capture and social sharing widgets built-in to capture site visitor interest, market live events before they air, and then even turn future event attendees into leads.
2. Provide a High Quality Live Event Page (with chat!)
Now it's time for the actual event. What is the point of a live stream if it doesn't have a great experience for your audience? Everyone wants to ensure their live stream provides an engaging experience, but what does this mean, exactly?
First off, the live stream site must have a large sized video player for your live stream that is mobile responsive and streams high quality video. The video and viewing experience keeps the audience engaged and focused on the live stream (which is what you want!).
Secondly, it is important to create a sense of community for those who are watching the live stream with social widgets such as chat and twitter. Your audience can both watch the event AND also have fun at the same time! This means having live chat functionality and social integrations so your audience can stay plugged in and interact throughout the live experience.
With the live event page of the Live Event template, you can do all of this. The best part is that your viewers will continue to watch the video through a mini video player even while they are engaged with the other features of the live event page. So, when they scroll through the page to see other content, the live stream follows them! Your viewers stay engaged with the event experience, and you will rest assured they are not missing out on any of the action.
3. Extend your event's ROI after you reach the finish line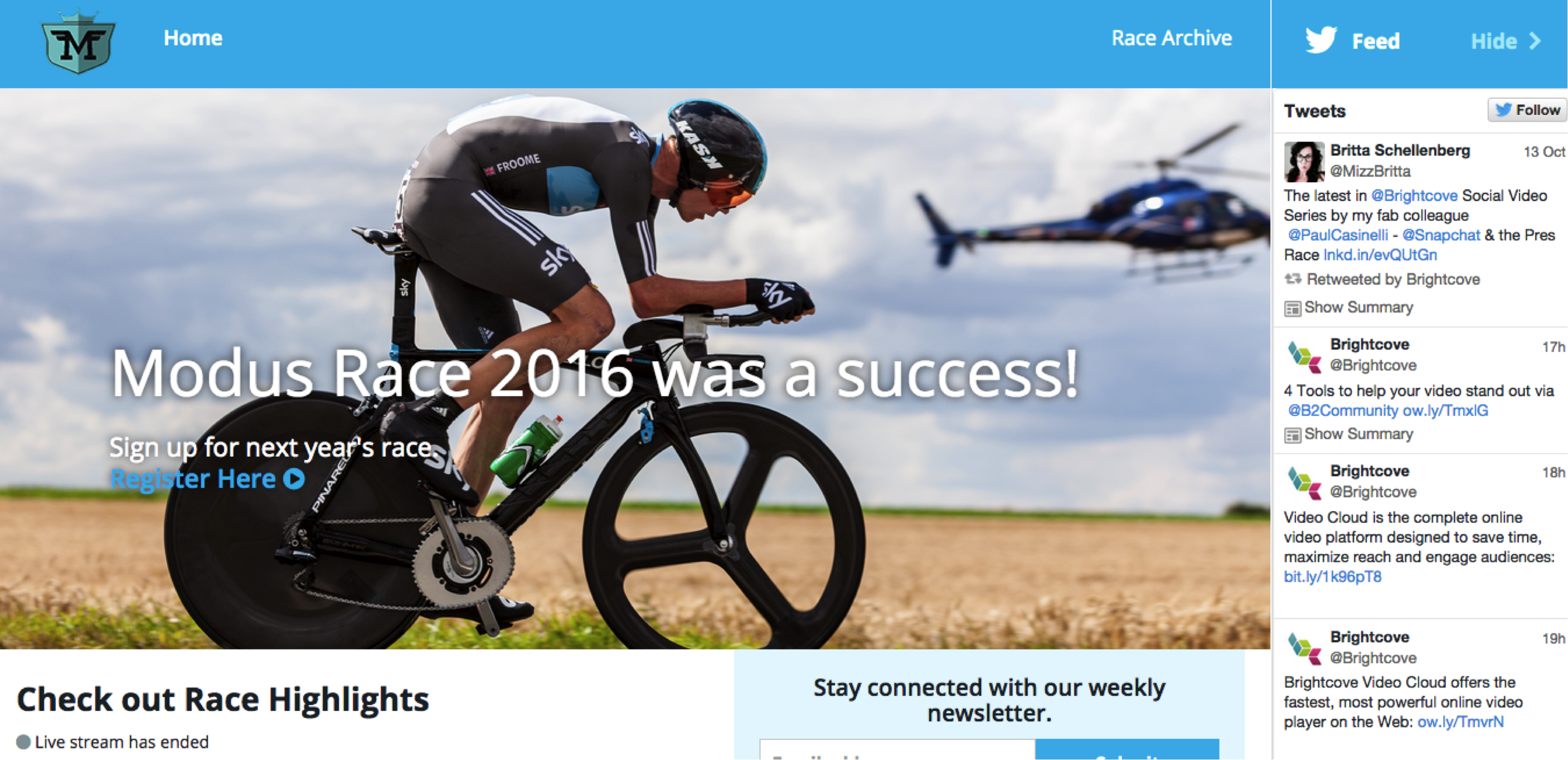 If there is no collection of your event videos after the event, did the event ever really happen?! For anyone who was not viewing the event live, the unfortunate answer is "no."
You spent a lot of time and effort organizing your event, promoting it, and executing it. Once you cross the finish line, there is one last thing you have to do. You must make sure your event continues to garner audience attention (giving you more ROI) even after the event ends. The best way to do this is with a post-event video destination page. With a post-event video page, you can be confident that you will continue to see results from your live event. This page is where you can add video clips with event highlights, and set up functionality to capture the interest of new visitors who would have liked to attend the event (but were unable to).
The Live Event template makes it fast and easy to create a video archive of your event that you can seamlessly switch on so that even after the event is over, it isn't really over. Encourage site visitors to further engage with your brand through this page and revisit highlights from the event. You can also use this page to generate business results by such things as implementing calls-to-action on page to grow your email list for your newsletter or to allow people to sign up for future events. The options (and your event!) are endless.
How one of our customers is seeing success using the Live Event template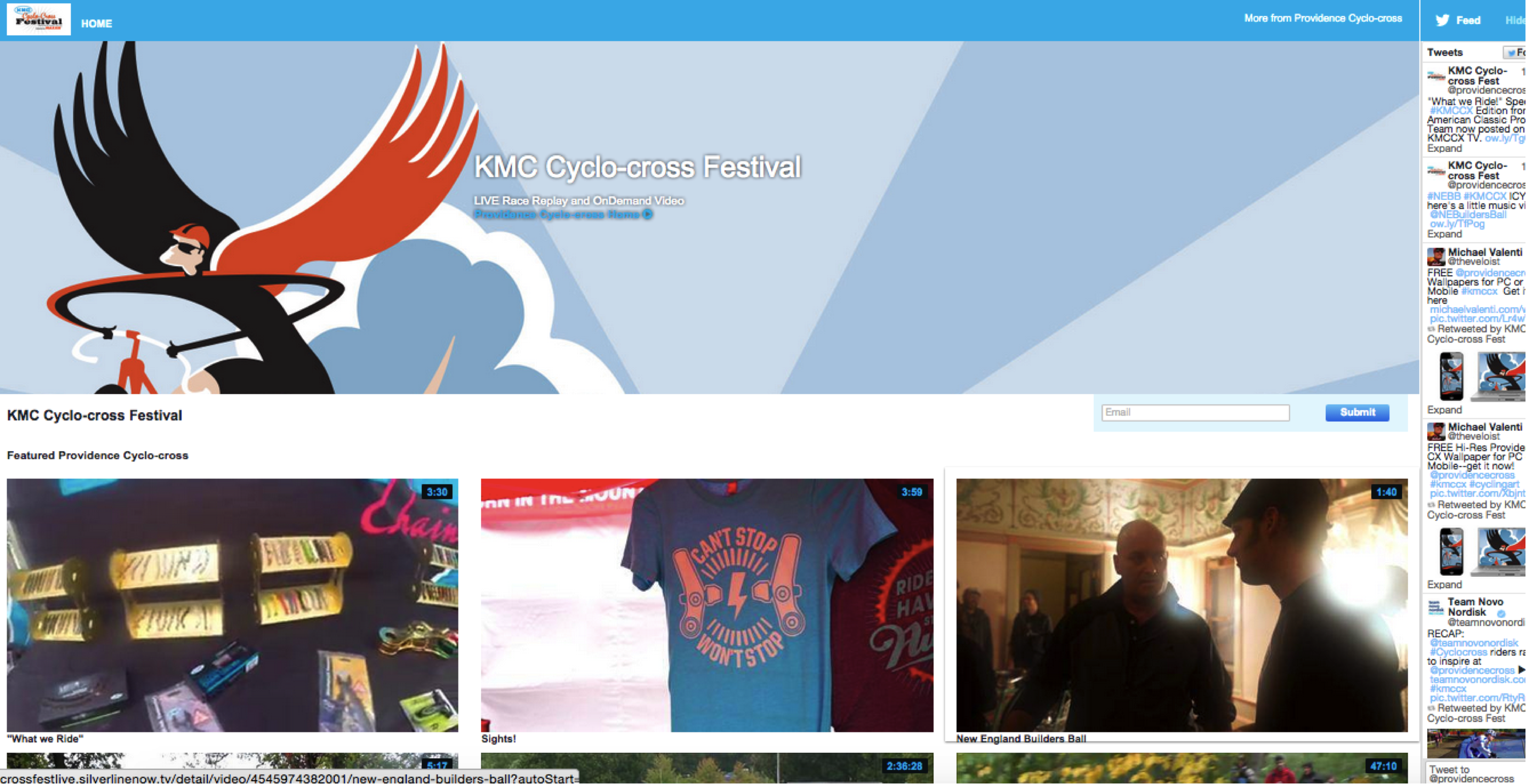 One of our Live Event template customers, SilverLine Global, is the leading sponsored media activation platform for mass participation endurance sports events. Live streaming and video on-demand remain at the heart their success.
Co-founder and President Holden Comeau stated, "We recently used Brightcove Gallery Live Event template for an event that had a very fast turn-around requirement. We were able to deliver an amazing product and experience, and we kept the costs in line with what the event needed." - Holden Comeau, Co-founder, SilverLine.
They have been able to reach a target group of athletes by advertising a live online experience specifically branded for athletes and fans. They have even continued their promotion with a video destination site created with Gallery to host some of their videos from the event.
So, you have now learned about the 3 ways to take your event to the next level;
Create a pre-event page to promote the event and create that extra buzz

C

apitalize on the live streaming page to capture your audience's attention throughout the actual event

Extend your event ROI with a post-event destination page.
Now it is time for you to put these tools into action. Do you have a live event coming up? First, we would love an invite! Second, check out the Live Event template from the Brightcove Gallery product to ensure success from start to finish.
Learn more about live event streaming and the Gallery Live Event template