As mobile video viewing continues to experience explosive growth, it can be challenging and time consuming to track down the most up-to-date and relevant data points to help inform decisions and strategy for how to capitalize on this growing audience.
Brightcove sponsored eMarketer's recent "Mobile Video RoundUp" report, which offers a one-stop-shop for the most relevant data about mobile video viewing, and we're pleased to be able to provide you with a free download.
With baseline stats and projections around how many people watch mobile video and the devices they use, a closer look at what people expect from mobile video content, along with consumer adoption of new platforms like Periscope and Meerkat, this report delivers a curated roundup of stats, trends, and insights to help media companies and content owners understand the current state of mobile viewing. Here's a taste:
Daily mobile video viewing is greater than desktop + connected TV devices combined: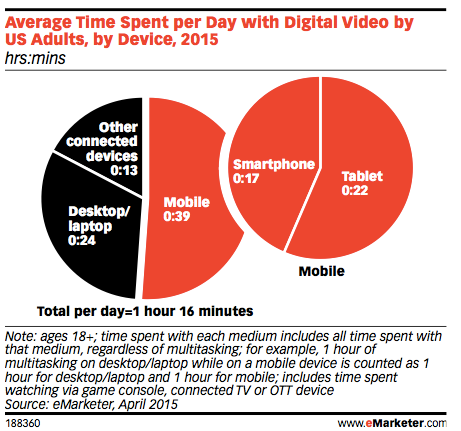 The report also reveals compelling new data around the gap between mobile video viewing and mobile video revenue, citing a myriad of factors that are hindering the growth of mobile video advertising. We are excited about how our solutions such as Once for server-side ad insertion and stream stitching are helping companies solve this challenge by delivering seamless and consistent ad-supported video experience across devices to maximize reach, ad inventory, and revenue. Feel free to contact us to learn more about how Once and other solutions are helping organizations like yours close the gap - and enjoy the eMarketer research.
Download eMarketer's Mobile Video Roundup