It's that exciting time of year when thousands of marketers from around the world make their annual migration to Cleveland, Ohio for Content Marketing World. The single largest (and fastest growing) content marketing event on the planet with some of the most prestigious, thought leaders in the world of marketing.
Just glancing at the list of some of the companies speaking at the event, it reminds me of what a privilege it is to see so many of our customers represented from great brands like EMC, Ford and Motorola, just to name a few. It's simply impressive.
As exciting as this event will be (and it will be inspiring), it represents a larger, unmistakable disruption going on in the marketplace; the explosion of content marketing. As we've said for a long time, every company is a publisher and this reality is changing everything about how we think about the role of marketing. Consider these three dramatic changes we are seeing:
First, this focus on content marketing has raised the bar for marketers to truly understand their audiences and provide meaningful, insightful content. Some may argue that this was always the case, but in the age where most of the buying experience was driven by stores and salespeople, great content was a condiment, a nice to have, and marketers could always rely on great sales skills and promotions to win the day.
Second, the growth of content marketing has led to a distinct focus on the buyer journey. The need to deliver the great content, at the right place and the right time (see our recent post on this subject) has forced marketers to walk in the shoes of their customers to truly understand not only what challenges they have, but what their decision process is like, who the stakeholders are, and what questions they have as they move through the purchase journey.
Third, the growth of content marketing is transforming the tools and teams for every marketing organization. From one of the earlier Content Marketing Institute research reports, it was clear that video was one of the hottest growth points for content marketing. This is no surprise for us as we've seen survey after survey confirm that video is the highest converting and most engaging form of content marketing.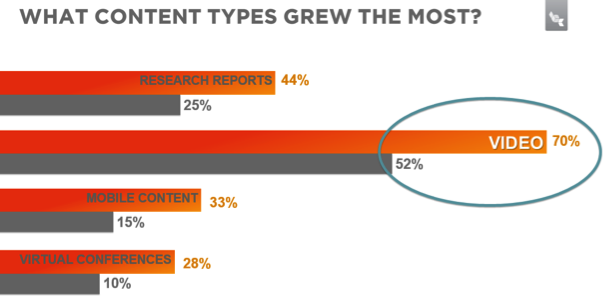 If you are unable to make the conference, we're doing a live stream event with Content Marketing Institute founder, Joe Pulizzi, on October 7 where we'll continue the great conversation on content marketing. Sign up here.
See you in Cleveland!