Brightcove technology partner Kiosked offers a platform for creating, distributing and tracking interactive and shoppable video.
Visual content is at the heart of content marketing. In fact, eConsultancy recently published a study stating that almost three quarters of digital marketers agree that brands are becoming publishers. Digital media, and especially video, helps brands to develop their relationship with consumers. Also, according to Internet Retailer, 52 percent of consumers say that watching product videos makes them more confident in their online purchasing decisions. Beyond that, people who watch product videos are 85 percent more likely to purchase the product. Purchase impulses are born independent of time and place, a phenomenon we refer to as "everywhere commerce." Below, we've outlined the related trends that you need to know about everywhere commerce.

1) Blending Content and Commerce
Connecting with consumers in a meaningful way is key to growing sales and strengthening customer loyalty. Content marketing is not just a much-used buzz word; it's an ideal way for brands and online merchants to make important connections with their customers. Content marketing means connecting with consumers in meaningful ways with branded or subtly branded content that tells your story with an authentic voice.
52% of in-house marketers and 58% of agency marketers list engagement as one of their top 3 business objectives. -eConsultancy

In fact, at the 2013 Digiday Agency Summit, Razorfish North American leader Shannon Denton spoke about the imminent collision between commerce and content as commerce becomes the front door for the brand. As Denton explains it, online retailers must break down the silos between commerce and marketing, ultimately creating an ever-present shopping experience for the consumer: "We have to make the commerce experience the best brand experience, too. We have to reimagine what an online store looks like, and we have to think about how we work storytelling into commerce."
2) Bringing Your Content to the People
Deliver your content to consumers where they are – don't make the consumer come to you. It is crucial for your consumers to be able to access content anytime and on any device. Creating an optimal cross-screen experience is more viable than ever with responsive design.
67% of people use multiple screens sequentially when shopping online. -Google
The shopping experience must be ubiquitous. Consumers actually want to connect with brands and products, but they want this connection to be meaningful, in the places they want to engage and when they want to interact.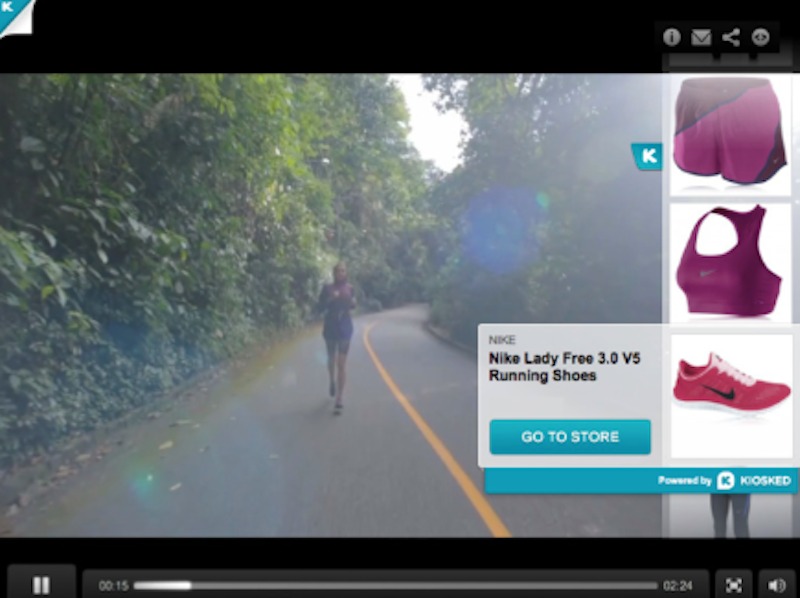 3) Visually Deliver Your Story with Commerce
At the heart of your content strategy should be visual content—images and videos. And to truly make your content a valuable resource, it must produce results (in retail speak this means sales!). Interactive, shoppable, visual content is one of the most promising trends in content marketing for retailers. A significant and meaningful shift in shoppable content can be seen with video. Video is moving from passive brand awareness to active sales channel through the use of interactive video.
90 percent of the online population will regularly watch online video by 2017. -Forrester Group
How can you make it happen?
The challenge of integrating a great brand story with your e-commerce model, or monetizing your media if you are a publisher, is possible through advanced technology that brings visual content and commerce together for a seamless shopping experience. Content marketing, interactive video, and the ubiquitous shopping experience should be part of any online merchant's marketing strategy. To learn more, register here for our webinar about interactive video which is taking place on February 18, 2014.
Jaakko Iso-Jarvenpaa is a Senior Partner Manager for Kiosked, based in London - he is building a global partner network of companies who share Kiosked's mission to turn all visual content online smarter. Prior to joining Kiosked, Jaakko worked at Google training digital and media agencies on how to better utilise Google's advertising solutions for their clients. Jaakko received his M.Sc. in Business from Turku School of Economics in Finland with focus on network theories and systems thinking. He is passionate about combining analytics and data with design thinking and behavioural science. To contact Jaakko and learn more about Kiosked, email him at jaakko@kiosked.com, follow on Twitter at @jaakko_ij or visit www.kiosked.com.