Conversion, conversion, conversion. Every marketer wants it--but it's not always easily attainable. So, what's the secret sauce in best-in-class marketers' conversion recipe? According to research conducted by the Aberdeen Group in December 2013, companies using video are more effective in content marketing and enjoy better performance in several key metrics. Hooray! We love it when data supports our knowledge that video just plain rocks and is absolutely essential to companies' marketing strategies.
But marketers don't just automatically see an uptick in conversion once they emphasize video. Instead, Aberdeen's research finds that video quality truly matters. For example, 73 percent of companies developing original video content rank their execution at a 4 or a 5 (on a scale of 1-5). So, not only is the video subject matter relevant and useful, the quality of delivery and distribution is also superb.
And, thus, if marketers are going to devote time, energy and resources to developing quality video content, then return-on-investment (ROI) is a must--which brings us back to the topic of conversion. In the same study, Aberdeen analyzed video marketing ROI and arrived at the following conclusions related to the golden ticket (conversion):
95 percent of best-in-class marketers are using video as a content marketing tactic.
Video content users enjoy an average 4.8 percent website conversion rate, compared to 2.9 percent for non-users.
The average cost per marketing-generated lead is $93 for companies that are using video, compared to $115 for companies that are not using video.
Companies using video require 37 percent fewer unique site visits to generate a marketing response or unqualified lead.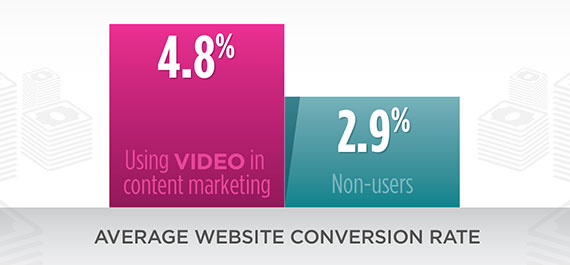 Taking a long-term view, these data points are incredibly significant. Video clearly influences companies' marketing effectiveness and efficiencies--helping them to make better use of precious marketing dollars.
We're going to discuss these data points--and much, much more--in a live video webinar featuring Steve Rotter, vice president of digital marketing solutions at Brightcove, and Trip Kucera, vice president of client success and CMO-in-residence at the Aberdeen Group. We hope that you can join us! Here are the details:
Analyzing the ROI of Video Marketing: a Live Video Webinar
Tuesday, March 4, 2014
9:00 a.m. ET/ 2:00 p.m. GMT or
1:00 p.m. ET
Register here
Join the conversation on social media and let your friends know about this video webinar using #VideoConversion. Also, check out our video below for more information.