Let's talk about sponsored content (or native advertising, depending upon who you ask)--a phenomenon that's emerged as a true force within the digital landscape in the last year. What is it, exactly? "A form of paid media where the ad experience follows the natural form and function of the user experience in which it is placed." Essentially, it is advertising. But, it's not in your face. It's a chance for brands to align themselves with the issues and topics that matter most to them and their customers, and at the same time they can create branded experiences that both engage and delight. It's a cross between content marketing and advertising--but offers a chance to get in front of a massive--or highly targeted--audience (via outlets such as BuzzFeed, Mashable, The Atlantic, Slate or an array of niche publications) that brands would otherwise only enjoy through earned editorial or straightforward ads.
Why is it on our brain this afternoon? A series of recent announcements from big-name publishers and major brands shed some light on the excitement surrounding native advertising and how online video can play a major part in these initiatives. Case in point:
AdAge reported last week on The New York Times' plans to roll out branded content opportunities as part of its website redesign. Given the Times' earlier successes with multimedia storytelling (for instance, Snow Fall), it's incredibly exciting that the outlet is planning to take the same approach with its sponsored content. Brand promotion can be fun, or informative or evoke powerful emotion. And it can entertain. It will be very interesting to watch this project unfold.
This weekend, Digiday shared insight into the work of men's interest publisher Complex Media; specifically, Digiday outlines a recent sponsored campaign it created with Converse. The campaign takes advantage of the lyrics--and personas--of popular Brooklyn-based hip-hop artists to tell a story of individualism, creativity and hard work. It integrates text and imagery with video showcasing Converse's core product: iconic sneakers. What's awesome about this effort is that it's very visually interesting but also reads as authentic. Sure--there's a direct link to e-commerce through the retailer Champs, but it's not bothersome because its surroundings are so appealing.
I also found this Forbes article written by contributor Alan McGlade to be thought-provoking. I specifically enjoyed this comment: "For Native Advertising to be effective it will need to be carefully curated for the target consumer and chameleon-like in appearance; blending into environments as unique and diverse as Twitter, Pinterest, Snapchat, YouTube or Buzzfeed." This is the challenge, of course, but also the opportunity. The popularity of sponsored content forces brands and their agency partners to approach advertising in an entirely new way. And, in the long-term, consumers will only benefit from targeted messaging and hyper-customization. "Commercials" might be as exciting as the main attraction.
Research firm the Altimeter Group also recently published "Defining and Mapping the Native Advertising Landscape;" one of the graphics from the report offers insight into the various components (and skill sets) that are necessary to make native ads/sponsored content successful: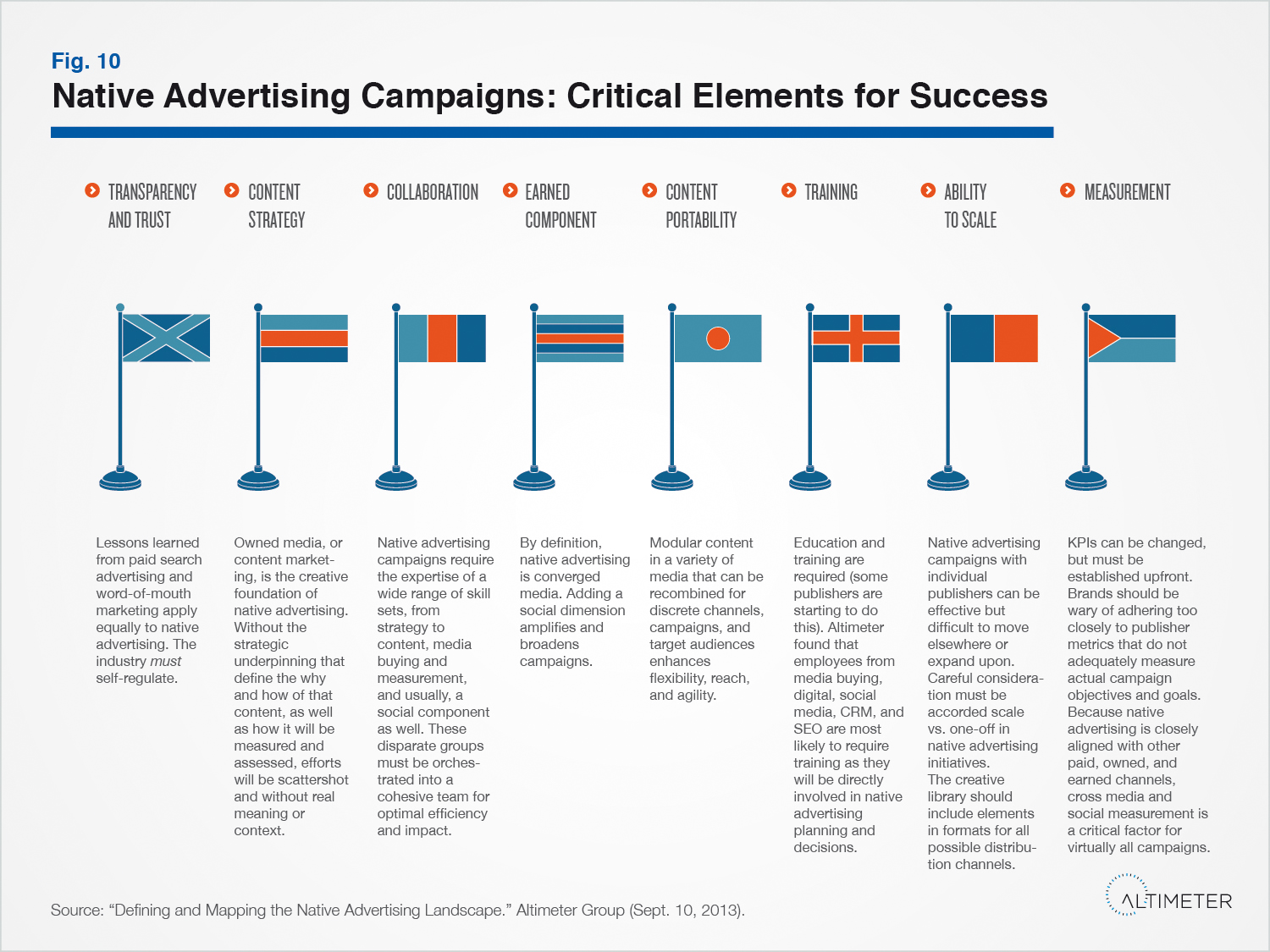 I'd love to know if you've seen any cutting-edge examples of sponsored content recently. Let me know in the comments.