Just before IBC 2013 we announced an exciting partnership with EVS to power their C-Cast service.  C-Cast allows live event broadcasters to instantly deliver complementary content to viewers on web and mobile devices during live events.  The service is used by major content providers, such as Canal+ in Spain (for La Liga).

The technical implementation (some of which is detailed below) takes advantage of years of innovation in broadcast technology from EVS, and the industry-leading speed, scale and reliability that only Brightcove's Zencoder cloud-based transcoding service can provide.

But no matter how nifty the technical details, the solution has to solve a real problem or create a new business opportunity.

With a live event, multiple cameras situated around a venue record every second of a game, and EVS servers store that content.  A producer decides what live video, instant-replays and highlights packages get shown on TV.  That TV broadcast is a huge revenue source for the rights holder.  EVS saw a big business opportunity in unleashing the content that heretofore sat idle its broadcast servers, never to see the light of day.

C-Cast bridges the gap between broadcast and online video workflows, and in doing so, unlocks the latent value in all of the footage shot at an event.  As EVS CEO Joop Janssen said in this interview with Sports Video Group, now rights holders "don't just sell one program feed and that is all they can charge for [. . .] they can actually create multiple packages and sell them separately to different audiences." The content that's published is not just clipped and repurposed from the broadcast feed.  It's never been seen, which makes it highly desirable to a fan base, which in turn means it's readily monetized, through the usual paid apps and advertising, as well as new distribution and monetization opportunities with products such as Twitter's Amplify.

[caption id="attachment_1822" align="aligncenter" width="708" caption="EVS C-Cast and Zencoder Cloud Transcoding"]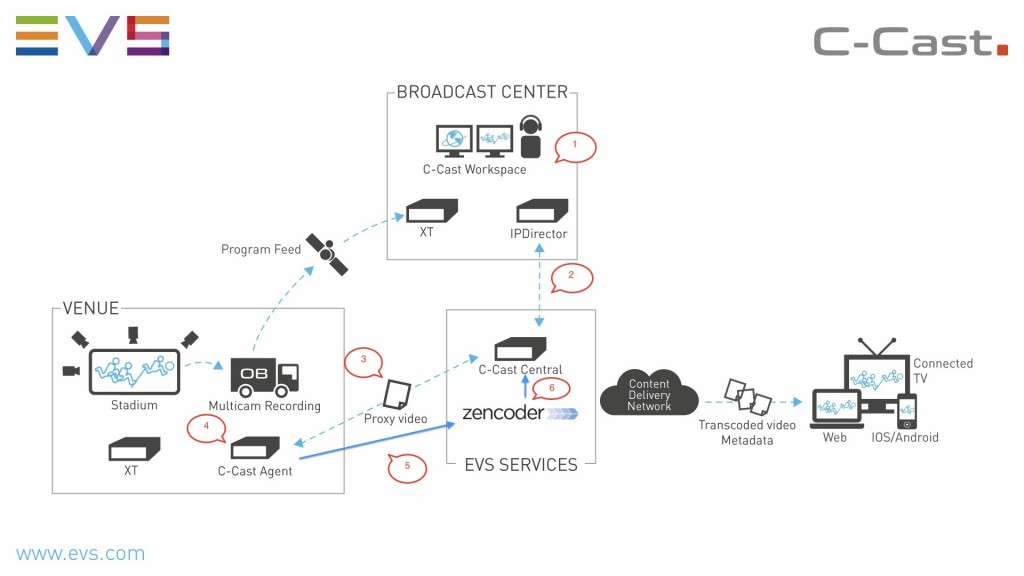 [/caption]

Depending on the duration of the selection and the bandwidth available, Media is ready to view in 1 or 2 minutes.
An operator watching the Program Feed makes a selection using EVS' video editing suite, IPDirector, which defines metadata and IN and OUT points
Information from the selection is sent to the C-Cast Central
C-Cast Central sends extraction requests to the C-Cast Agents involved
The C-Cast Agent extracts and transcodes a mezzanine file of the previously selected footage
When C-Cast Central receives a file, it sends a transcoding API request to Zencoder, which transcodes the mezzanine file into formats that suit the broadcaster's publishing goals.
When the transcoding is finished, Zencoder provides a callback to C-Cast Central, which exposes these new media in its API, and from there on to client applications.