This week Deloitte released its State of the Media Democracy Survey, an assessment of U.S. consumers' digital habits. The research is full of fascinating statistics. Among them: 26 percent of us are what Deloitte refers to as "digital omnivores." That is--over a quarter of U.S. consumers own not just a laptop, but a smartphone and a tablet too (check out the infographic below).
Talk about being connected. What's more, the study found that we're incredibly reliant upon all of these devices--in fact, these five digital devices are our most valued products: desktop computer, laptop, smartphone, flat panel TV and tablet. I think it's safe to say that most of us feel not quite right without any of these in close proximity.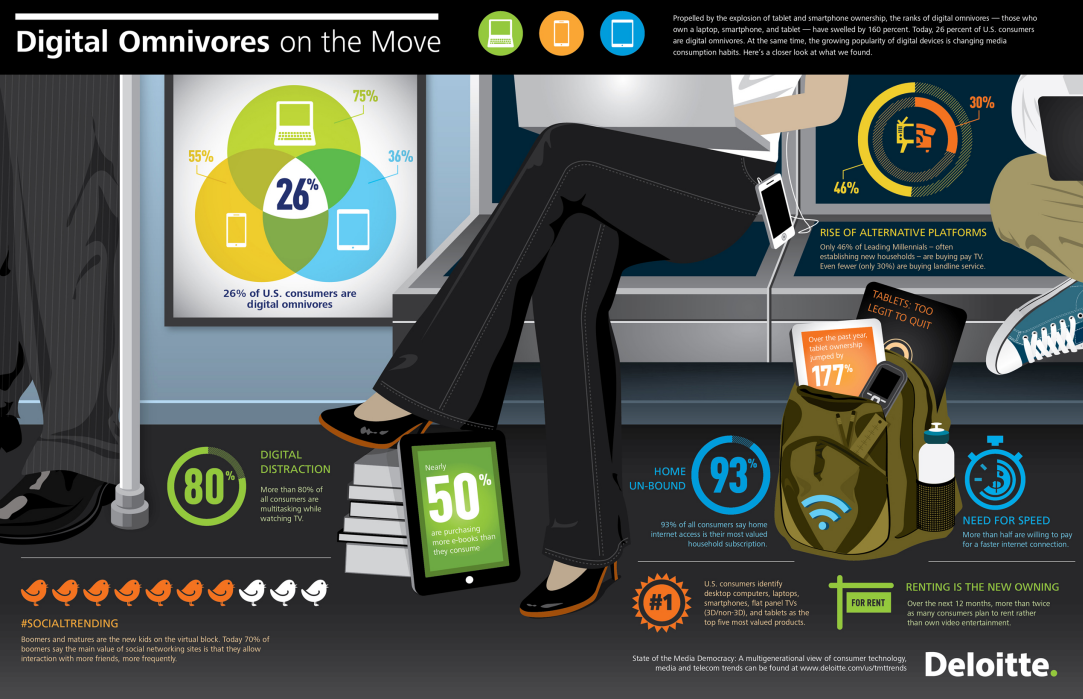 Here are some other statistics from the survey that are very relevant to Brightcove's customer ecosystem:
More than 80 percent of U.S. consumers multitask while watching TV--email and text are our top dual-screen activities
Tablet owners stream movies 70 percent frequently than their non-tablet-owning counterparts
More than half of Deloitte's survey respondents reported a willingness to pay a premium for a faster Internet connection; smartphone and tablet owners were willing to pay more for expedited Internet speeds
Only 46 percent of Millennials pay for subscription television--supporting the widely held theory that direct-to-consumer content has incredible staying power
Twenty-five percent of tablet owners said they would be open to watching more professionally created online video content; but, news, user-generated content, sports and sitcoms are popular online video entertainment choices too
Digital consumption habits evolve so quickly, and Deloitte's data is a stark reminder of this trend; it's almost incredulous that tablets--a recent phenomenon in the larger technology scheme--have made their way into our top five most valuable possessions in such a short time. Both media and brand content producers are synched with these behaviors and are innovating to stay current. But, will their actions keep pace with consumer demand? Only time will tell.