On the eve of the 2012 election, we were very interested to see the results from a new study from the Pew Research Center which found that 55% of all registered voters have gone online this election season to watch video content related to the election campaign or politican issues.

Certainly between the last election and now, consumer behavior has changed significantly with more and more people tuning in to video content on their mobile devices, tablets and connected TVs rather than just on their PC. Anytime access to information is the gold standard for how to engage with voters of all ages today, and the new data from Pew Research underscores the importance of video content in the voter education process.

Other interesting findings from the report include:
48% of Internet-using registered voters watch video news reports online about the election or politics
40% watch previously recorded videos online of candidate speeches, press conferences or debates
39% watch informational videos online that explain a political issue
37% watch humorous or parody videos online dealing with political issues
36% watch political ads online
28% watch live videos online of candidate speeches, press conferences or debates
62% have had others recommend online videos for them to watch related to the election or to politics
In terms of the types of video content that voters are tuning in to, Pew Research found that viewing cuts across news reports, speeches, debates, ads and event videos, among others.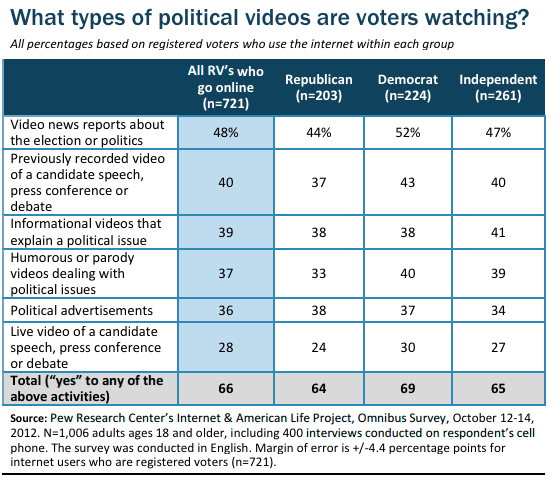 Like the rest of the country, we'll be watching closely for the results tomorrow to see how it all plays out. And of course, we'll be particularly interested in looking back on this election to understand the impact that online viewing had in shaping voter's decisions and the outcomes.