Proclaiming its coverage of the London Olympics to be the most watched event in U.S. television history, NBC unofficially declared open season on the slicing and dicing of viewing numbers, stats and trends for the 2012 summer games. While the analysis is sure to be wide and varied over the coming days and weeks, it can be easily argued that London was a watershed event for TV Everywhere/multi-screen video/cross-platform entertainment.
For starters, these games were the first in which every single competition was streamed live. While much of the television coverage (NBC leveraged two broadcast networks, four cable networks and two specialty channels) was tape delayed, visitors to NBCOlympics.com (available in computer and mobile Web versions) and NBC Olympics Live Extra mobile app users could watch any competition in real time, assuming they verified their device with their TV operator.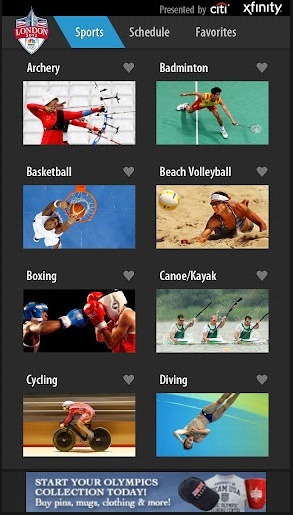 NBC's Olympics mobile apps were downloaded more than eight million times.
And verify they did. NBC says cable, satellite and telco TV subscribers verified nearly 10 million devices. That's roughly 10% of the total pay TV homes in the U.S. It's also a testament to consumers' willingness to authenticate subscriptions for access to Olympics coverage. In exchange, NBC delivered 159.3 million total video streams (64.4 million live), constituting 20.4 million hours of total video (13.6 million live). For context, those figures more than double the 2008 Beijing Olympics totals of 75.5 million streams and 9.9 million hours of video.
Engagement was also up significantly compared to Beijing, with NBCOlympics.com users spending an average of 30 minutes per visit during London as opposed to 12.3 minutes for Beijing.
What's also interesting is the sheer volume of data available for analysis and reporting in countless different ways. London is the first Olympics to take place in the "big data" era, which is evident to how quickly and thoroughly NBC was able to track and turn around such a broad and detailed range of information in such a short period of time. In fact, InformationWeek just published a great story on big data and the Olympics.
By the way, NBC sold $1.25 billion in advertising along the way and looks to have turned a profit on the $1.18 billion it paid for the rights, according to Bloomberg. It's not clear whether the advertising figures reflect both online and broadcast advertising or only broadcast.
Either way, with TV Everywhere potentially adding $12 billion in annual revenue to the U.S. TV ecosystem in the next three to five years, content owners are likely taking notes on what NBC achieved in London and how as they continue to develop and launch other initiatives to get a piece of the sizable pie.
Helping content owners get in on the TV Everywhere action is something we're firmly committed to here at Brightcove. Through our digital media solutions, many of the world's leading media organizations are realizing the full value of their content by simplifying the complexities created by today's technologically and geographically diverse consumer base.
Among those solutions is the Video Paywall Solution Framework we introduced at NAB this year. It's a completely pre-integrated platform that organizations can use to build and manage their own subscription and pay content services across devices and platforms.
If you'd like to learn more and see our solutions for yourself, we invite you to visit us at IBC next month in Amsterdam. We're exhibiting on stand 5.C20 if you'd like to stop by. Or if you prefer to set up an appointment, email ibc@brightcove.com and we'll be glad to schedule some time with you.