App Cloud's real-time image transcoding API now has a public "face" in App Cloud Studio. Developers can use it to explore the API in a visual way before writing a single line of code. Just enter an image URL and adjust a few parameters like width, height and image quality: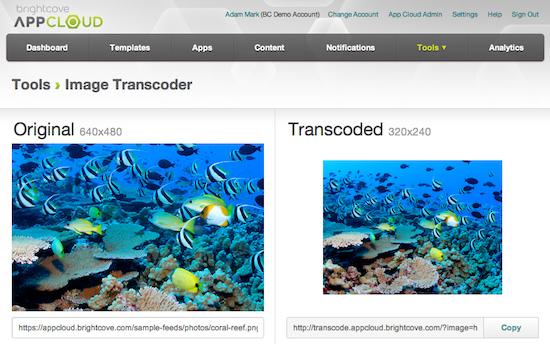 It's a quick way to determine the best level of compression for some JPEG photos or the correct cropping algorithm for a series of thumbnail images.
With image transcoding, developers can dramatically improve app performance by reducing image sizes by 90% or more. And it's a snap to use—service URLs can be composed at runtime with a little bit of JavaScript.
See the App Cloud docs for a complete rundown of the API. (App Cloud Core users: Upgrade to App Cloud Pro to use this service.)
p.s. Get more tips and tricks (and share your own) by joining the Brightcove App Cloud discussion group on Google.