Good afternoon from PLAY 2012. We have a great crowd here in Boston that braved some torrential rain and thunderstorms earlier today to turn out for a terrific first day.
Starting shortly, we'll be live blogging what promises to be a fascinating conversation featuring Jim Breyer, Erick Schonfeld, and Jeremy Allaire.
4:23 – Jeremy is welcoming Jim Breyer and Erick Schonfeld to the stage.
4:20 – Breyer: If you're a film publisher, 20% of your budget should be going into social and mobile for marketing a title.
4:33 - Allaire: Facebook becomes a container for apps just like the App store.
4:36 – Breyer - I think precious, good content is more valuable today and it will be more valuable in the years to come.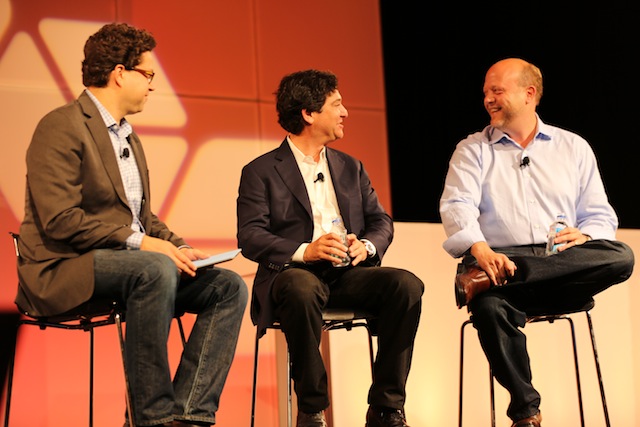 4:41 - Breyer: Its absolutely impossible for me to think that music labels will say they won't embrace the kinds of applications that Spotify presents. Ultimately if you're building a great customer experience, it will receive a significant part of the overall amount of the pie.
4:48 - Breyer: When we're observing people watching live sports on TV, they're spending as much time watching the game as they are using their mobile devices.
4:52 - Allaire: Apple's concept for a universal app that works seamlessly on iPad and iPhone is going to easily be translated to TV apps.
4:55 – Allaire: Once we connect into the TV environment and TV apps with companion devices, that will provide a radically better experience than what you can provide with traditional broadcast advertising.
4:59 – Allaire: Broadcasters who are looking at TV apps need to look at the unique marketing and advertising opportunities than can be achieved on companion devices.
5:01 – Allaire: If a user chooses to engage and spends time with an interactive marketing experience, that's a deeper level of engagement that you can price on a cost per engagement basis. But there's not a good standard out there for basing that pricing.
5:04 – Breyer: Frequency starts to matter more than ever be for from the 18-34 year old demographic. There are small content and TV series developers who can economically create that can touch customers in meanifgul ways that are more valuable.