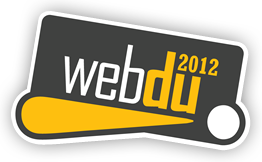 Brightcove ANZ is pleased to announce that we are the sponsors at WebDU 2012. Alongside the sponsorship, we have been invited to host our App Cloud Developer Kitchen at the conference. WebDU is a premier web developer conference held in Sydney, Australia. This is the tenth year of the conference. Every year, the conference draws in a large community of web developers across Australia and New Zealand with its top-class international and Australian speakers.
This is Brightcove's second Developer Kitchen in Sydney. This year promises to be a bigger event and will be led by Adam Mark, Brightcove's App Cloud Developer Advocate. It will be a full day workshop, held on 2nd May at Four Points Sheraton, Sydney. Adam will also be speaking on 4th May at the WebDU conference.
At Brightcove's Developer Kitchen, you will learn how to create hybrid-native apps from scratch with Brightcove App Cloud. You'll draw on your HTML5, CSS3 and JavaScript skills to develop a custom app that works across iOS and Android. Learn best practices for loading remote content, optimizing data and images, working with the DOM, caching data for offline use, accessing native device capabilities, and more. Sign up for a free developer App Cloud account here.
To find out more about App Cloud Developer Kitchen, click here.
To register, you can click here. Registration is free.
Block out your calendars for 2nd-4th May. See you at WebDU 2012!