We're pleased to announce the publication of a new Brightcove customer case study that documents how Joyce Meyer Ministries is using a combination of Video Cloud and App Cloud to extend the reach of its flagship syndicated TV program and complementing print publication to audiences worldwide. The case study exemplifies how Video Cloud and App Cloud can work hand-in-hand as a robust platform to deliver engaging experiences through a seamless blend of online video and mobile apps.
Joyce Meyer Ministries rolled out Video Cloud to provide online viewers of its program, "Enjoying Everyday Life," with an optimal playback experience while also giving the Christian non-profit the ability to better track engagement rates and other key analytics. "Delivering that message online in a clear, easily viewable format is crucial for those people who only have the option to watch online," according the Nathan Veer, web producer for Joyce Meyer Ministries.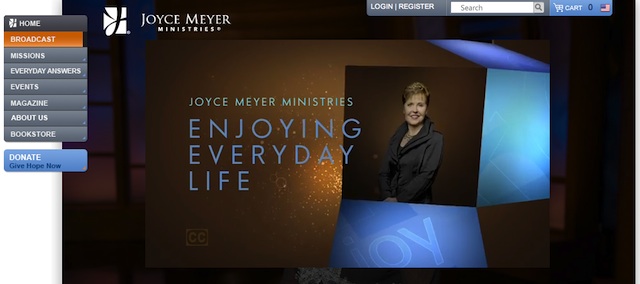 Six months after adopting Video Cloud, the organization expanded into mobile app development with App Cloud, building an app that provides users with daily updates on their mobile devices. In addition to the improved integration of video with mobile devices that it sought, App Cloud gives Joyce Meyer Ministries the ability to manage the app development process internally with existing employees, using internal resources and developing a new department within the organization.
"The great part about using the App Cloud and Video Cloud platforms together is the seamless integration," Veer said. "It works with the click of a button. Finally, we had a technology solution we didn't have to think about at all."
For more about Joyce Meyer Ministries' work with Brightcove to expand its audience and increase engagement through online video and mobile apps, we invite you to download the case study.