Like all great films - and awards ceremonies honoring those films - there are plenty of behind-the-scenes players contributing to their success. In the case of the 2012 Orange British Academy Film Awards, one of those players was of the more literal variety: Brightcove's Video Cloud Smart Player, which the British Academy of Film and Television Arts (BAFTA) used to display a wide-ranging assortment of video content leading up to and following its annual awards ceremony in London.
Since 2009 BAFTA has been using the Video Cloud online video platform to make its content library of long- and short-form footage, awards ceremonies, lectures, and sample clips from more than 200 annual events available to BAFTA.org viewers on any device, including smartphones, tablets, PCs and connected TVs. In the case of the BAFTA awards, the organization creates video libraries featuring winners and red carpet interviews, as well as a wealth of overview and educational content building up to the high-profile occasion.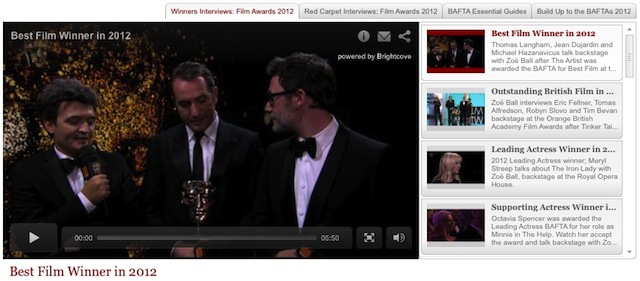 BAFTA creates a wealth of online video content in support of its annual awards programs.
In a case study documenting BAFTA's use of the Video Cloud platform, BAFTA online editor Pippa Irvine noted that the ability to quickly post red carpet video content and behind-the-scenes interviews at the time they're happening is critical. "Efficiency is key," Irvine said. "We want to be there first with all the backstage goodies for viewers to check out online via their laptops, iPads or mobile devices."
Brightcove extends its congratulations to all of the 2012 BAFTA Award winners and nominees for their efforts that were so clearly on display both in front of and behind the camera.