I recently had the opportunity to participate on a panel at the Business Video Expo (BVE) in Miami Beach. The topic, Video in the Cloud: Leveraging Hosted Solutions for Enhanced Communications, allowed me to share some best practices for online video strategies with an audience that was clearly eager to amplify their own initiatives. It was a fun, informative session and I enjoyed exchanging ideas with attendees along with my two co-panelists and Brightcove Technology Partners, Michael Kolowich of KnowledgeVision, and Ralph Pelamourgues from Mixmoov. (Mixmoov announced the integration of its Video Editor with the Brightcove Video Cloud online video platform during BVE.)
One of the nice things about conferences like this is that you're able to learn a lot from the conversations you have between the educational sessions, not just during them. That was the case at BVE, where I picked up on three predominant themes that were very much top of mind amongst the marketing, IT, and communications professionals in attendance.
One of the most frequent conversations I had was along the lines of monetization. There's a fairly common school of thought that monetization equals advertising, and there are plenty of instances where including advertising in your organization's online video isn't an option. I always try to impart that advertising is just one of numerous monetization strategies. Just by adding video to a website, you're content starts working for you thanks to the additional traffic it generates and the extra time that it will keep audiences engaged on your site.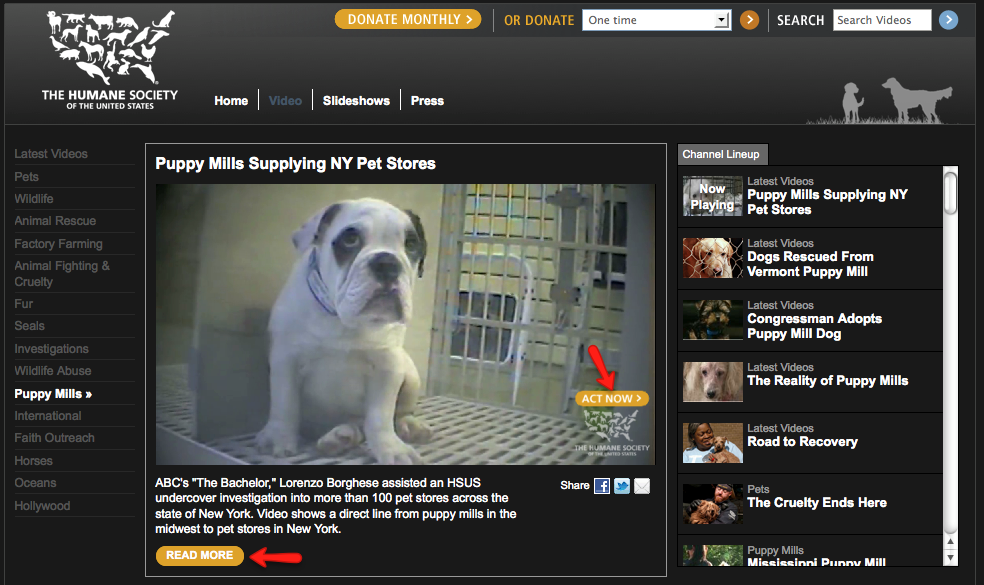 In-player calls to action, like these opportunities to read more or act now, offer an effective means of content monetization.
While advertising might not be an option, in-player calls to action could very well be. This gives organizations the opportunity to cross-promote other items or services, or simply invite viewers to learn more and make their way deeper into the site. Calls to action can very effectively convert viewers into buyers or qualified leads.
Another hot topic was analytics. I spent a good deal of time talking about analytics in general, and how businesses can use the incredibly valuable and insightful information available to them in order to formulate their online video strategies and drive better results. This also gave me the chance to discuss Video Cloud's out-of-the box analytics, which include audience metrics like unique viewers, new viewers, and geographic distribution of views, as well as endpoint profile reports with details about users bandwidth consumption, operating systems and browsers.
It's also worth noting that Brightcove integrates with third-party Web analytics platforms such as Google Analytics and Ominture. This allows users to access site metrics and video analytics all in one convenient place while demonstrating how video affects time on site, engagement and conversion.
The other point that came up was a blended YouTube strategy, something that Brightcove has espoused for some time. Essentially, we suggest using YouTube as a good "front door" into your site and environment. YouTube is great for building awareness and promoting viral sharing and awareness. Once engaged, the key is to drive traffic to your site for a fully branded experience that drives deeper engagement and conversion.
Business Video Expo proved itself to be a good event with a great turnout of attendees. There was a solid cross-section of businesses represented, from small and medium operations to global enterprises, all who were attending with the shared goal of learning more about and improving their online video initiatives.
If you're just starting to pull together your online video strategy or are looking for ways to improve, a good place to start is Brightcove's free "Video Strategy Framework" whitepaper. And of course, don't ever hesitate to get in touch with a Brightcove expert. We're always glad to help.