Digital marketers and media publishers are struggling to find the right solution to develop their mobile apps without breaking their budgets. There are multiple operating systems and numerous devices to support, many internal content systems and external service platforms to integrate, and key functionalities to develop. You need to find the right team with the right skills, equip them with the right tools, and manage the obstacles that will spring up on your way to that big launch. Needless to say, mobile app development is challenging.
But most importantly, you have a strategic goal to achieve for your mobile initiative, whether it be distributing and monetizing content for media companies, building brands and generating leads for B2C companies, growing communities for non-profit organizations, driving operational efficiencies for B2B companies, or communicating with key constituencies for government organizations. To drive towards these goals, building and launching an app is just the very first step.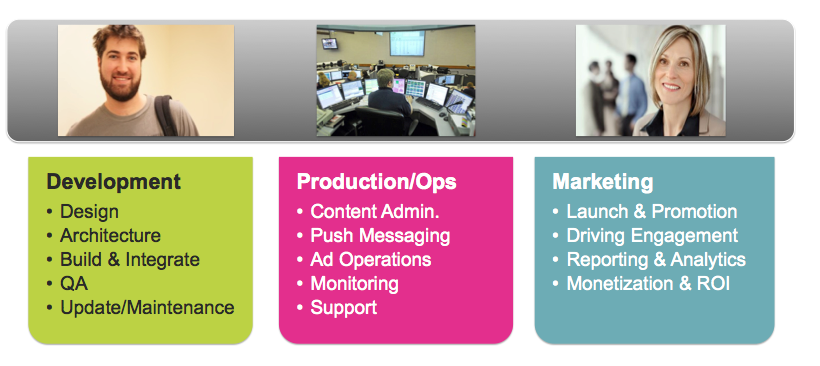 At Brightcove, we believe mobile apps are a journey, not a destination.
After you have launched your apps, you will have a set of tasks for successfully operating the app. These tasks include updating content, sending push notifications, managing your advertising operations, and monitoring performance and reliability, just to name a few.
As the business owner of the mobile apps, you need to have real time visibility into app adoption trends, user engagement indicators, and monetization performance. Based on these insights, you may need to adjust your content mix, stimulate user engagement in targeted ways, and optimize your monetization policy.
Stakeholders across several functions need to be involved, from the development team and the operations team to the marketing team. To streamline this operation and push the execution of your app strategy to the efficiency frontier, you need a closed loop where these stakeholders can collaborate seamlessly on an on-going basis.
For instance, consider the following common scenarios for a newspaper app (actually one iOS app, one Android app) that has been installed by tens of thousands of users on iPhones and Android phones:
Your marketing team wants to know how many times a particularly hot piece of content -- an exclusive interview, for example — in your app has been viewed, and the average viewing time, in real time.

Your development team needs tweak the design of the app to feature that particular piece of content in the app, but they don't want to force users to upgrade to a new app.

Your advertising team wants to switch the mobile advertising account (for example, AdMob) used for this content to a different one for better targeting.

Your cross-functional business team dispersed across five locations needs to review and test drive the next release of the app in real time, which is being changed every minute by the development team.

Your marketing team needs to notify your app users living in Boston that there will be a special event downtown in a couple of hours.
Actually it doesn't have to be a newspaper app. Marketers, manufacturers, non-profit organizations, and government offices will run into similar situations on a daily basis.
There are point solutions in the marketplace that may be able to help you with some of the challenges, including mobile development frameworks, mobile analytics engines, and push notification platforms. But the responsibility for seamlessly integrating these solutions and managing them with separate vendors falls back on you and your development team. It is inevitable that you will run into compatibility issues along the way.
At Brightcove, we believe bringing together all these discrete technologies in an end-to-end solution would addresses the full life cycle of an app, from development to operations. We believe that this solution would deliver tremendous value not only to developers who build an app, but also to the producers, operational administrators, and marketers who manage an app on an ongoing basis.
We built such a solution; it is called Brightcove App Cloud.
To learn more about App Cloud and try it for yourself, you can sign up for a free account at brightcove.com.