Video: Following a new initiative, reporters throughout the newsroom, powered by the launch of a new video system (Brightcove Video Cloud), offered readers more story-related videos than ever, leading the way to our highest-trafficked month ever, with 514,650 streams.
The above passage was excerpted from a memo written by Los Angeles Times Managing Editor/Online Jimmy Orr and Senior Vice President/Digital Emily Smith to the newspaper staff. The memo, documenting highlights from November 2011, was published in the Readers' Representative Journal section of latimes.com.
Suffice to say, we here at Brightcove are thrilled that our online video platform is playing a role in the success that the Los Angeles Times is enjoying with its new online video initiative. What's more, we firmly believe what the Times is doing indicates a larger and growing trend of newspaper publishers incorporating video strategies as part of their online presence.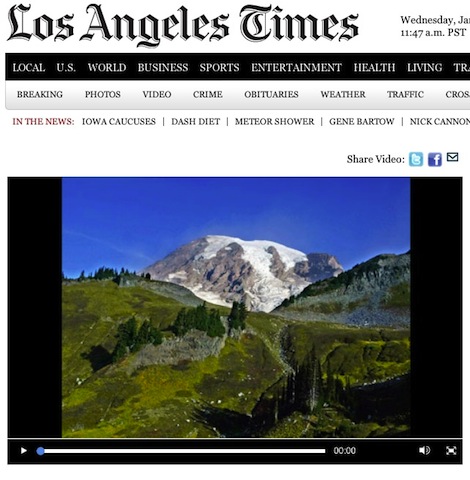 A quick look at Brightcove's newspaper customers supports this. Well known and respected publishers such as Cox Newspapers, Gannett, Guardian News & Media, Hearst Communications, New York Times Co. and many others are all using Brightcove Video Cloud to deliver video to online audiences.
In a recent article, Chicago Tribune Senior Photo Editor Meg Theno wrote about her newspaper's move to offer more video at chicgagotribune.com: "In our mission to deliver even more to our print and web readers, video has proven to be a natural companion to words and pictures. It allows us to bring readers to the scene, whether inside City Hall, on the streets of Chicago or in someone's living room."
"Shooting video and collecting audio is part of the daily workflow for Tribune staff photojournalists," Theno wrote. "In the long run, we hope it helps to build a stronger connection between readers and subjects."
According to Brightcove's latest Online Video & the Media Industry research report, engagement rates are rising for online video on newspaper sites. The report shows quarter over quarter increases in average minutes watched per view as well as completion rates.
To learn more about Brightcove's online video solutions for newspapers, visit http://www.brightcove.com/en/solutions/newspapers.