We recently published a new Video Cloud customer case study with Cars.com, one of the Internet's largest automotive classified websites. Cars.com generates more than 10 million monthly visitors that use the site to browse, research and purchase new and used vehicles. The site began to feature editorial video content in 2007 as part of its commitment to giving car buyers the information they need to make confident buying decisions.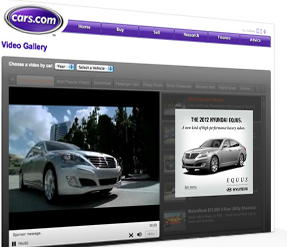 The organization sees video as crucial to building its brand, driving site traffic and helping to expand its partnerships with automakers, dealers and private-party sellers for advertising and lead generation, much of which relies on compelling photo and video content to entice buyers and advertisers.

With Video Cloud, Cars.com was able to create a more efficient content creation and distribution system that allows programmers to create tags, custom video players and syndicated content quickly and easily. As a result, the user experience on the site has improved significantly, and time spent watching editorial video content increased from roughly 30 seconds to more than six minutes, which is much more attractive to prospective partners.

Video Cloud's built-in analytics tools also allow Cars.com to gather important user data and shape video content to suit the unique preferences of individual users based on past behavior and engagement levels.

In the future, Cars.com plans to expand its emphasis on editorial video, including potentially adding live video content and syndicated content plug-ins.