It's no secret that the amount of online video being produced and consumed is skyrocketing, with hundreds of millions of Internet users watching billions of videos every month. Ironically, the popularity of online video creates both tremendous opportunities along with some challenges for marketers and communicators to attract and engage audiences. Brightcove's own statistics show that video drives website traffic and increases time on site.
Many leading global brands are already leveraging deep integrations with Brightcove's Video Cloud online video platform for their website and social media strategies. Kohler, for example, has created several video channels and an extensive content library dedicated to its various product lines. And Nestle Purina supported its Incredible Dog Challenge with a broad range of video content highlighting the canine and human participants in its annual series of regional sport dog events.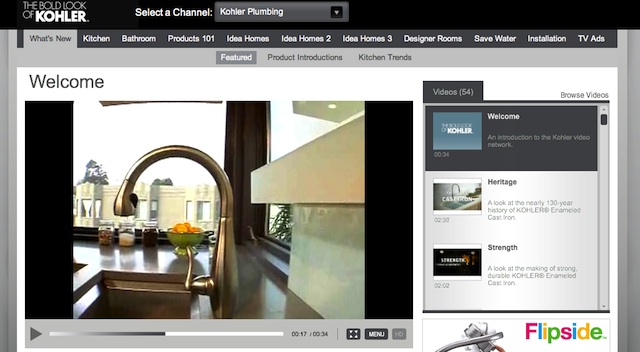 Brightcove recognizes the power of extending Video Cloud with comprehensive solutions that harness the power of major social destinations, video aggregators and consumer-driven video content. That's why Brightove offers turn-key solutions that bring together the power of the market-leading video platform with expert development resources and strategists to implement end-to-end offering for organizations and brands of all sizes to launching their own online video initiatives. Combining the proven features of the Brightcove Video Cloud online video platform – reliable hosting, multi-format encoding and delivery for viewing on any screen, and simple content management – with access to an expert professional services team, the four Video Cloud Solutions are:
YourBrand TV to establish branded video channels on corporate websites
YourBrand TV for Facebook to seamlessly publish video into Facebook pages and news feeds
YourTube UGC Portal to leverage user generated content campaigns to drive engagement and leverage customers as brand advocates
YourTube EGC Portal to leverage employee generated content for internal communications

Brightcove Professional Services
One of the benefits that comes with all Video Cloud Solutions is direct access to Brightcove Online Video Professional Services, a highly skilled group offering start-to-finish consulting, strategy, design and development services to bring your solution to reality in the shortest time possible. Consisting of dedicated Brightcove online video experts, the professional services group helps customers accelerate time to market, refine key strategies and tactics, and differentiate you from your competition.
Brightcove Video Cloud Solutions are available through Brightcove Professional Services in conjunction with Video Cloud Pro or Enterprise subscriptions. To get started or learn more contact Brightcove Sales.