The available options for online video streaming security are wide and varied, often creating an arduous decision process for publishers evaluating how to best protect their valuable content. With those challenges in mind, Brightcove has launched a new Online Video Security page in the Brightcove Learning Center portion of our website. The page is built to serve as a resource for video publishers at all levels who are evaluating their choices, looking to change their existing solution or altogether increase their current level of security measures.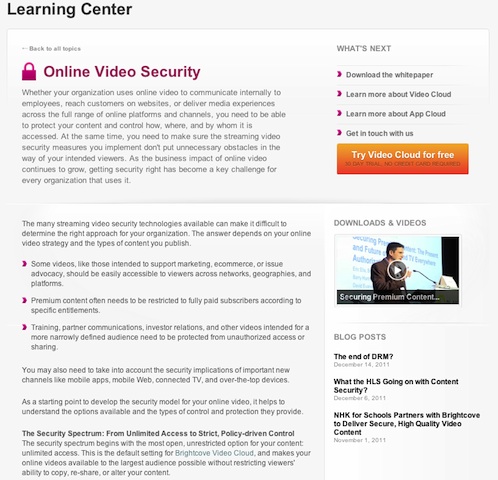 The Online Video Security Learning Center site provides visitors with a thorough overview of the current security landscape, outlining the different types of security available, such as encryption, watermarking and DRM, along with what solutions are best suited to particular applications and requirements. The page also functions as central repository for all of Brightcove's whitepapers, blog posts and videos related to online video security.
Useful publications available through the site include "Online Video Security 101" and "Getting Started with Digital Rights Management for Online Video." We encourage you to visit the site often, as we'll regularly add new material such as papers, updates and real-world examples of how Brightcove customers are protecting their online video.