Brightcove is pleased to announce that we've recently integrated Video Cloud with Adobe's CQ5 Web experience management platform, adding a robust, enterprise-class content management system (CMS) to the growing roster of CMSs with which we've integrated. The Brightcove Video Cloud component for CQ5, which was integrated by our solution partner Coresecure, makes it as easy as possible for users to manage entire video libraries within the CQ5 environment.
Adobe CQ5 is optimized for online marketing and communication, making Video Cloud a natural complement and valuable addition as enterprises continue to expand their use of video in all facets of external and internal communications. Key functions enabled by the Video Cloud/CQ5 integration include:
Browse Video Cloud accounts within the CQ5 interface
Search for videos by Video ID or by name
Embed a video and player into a page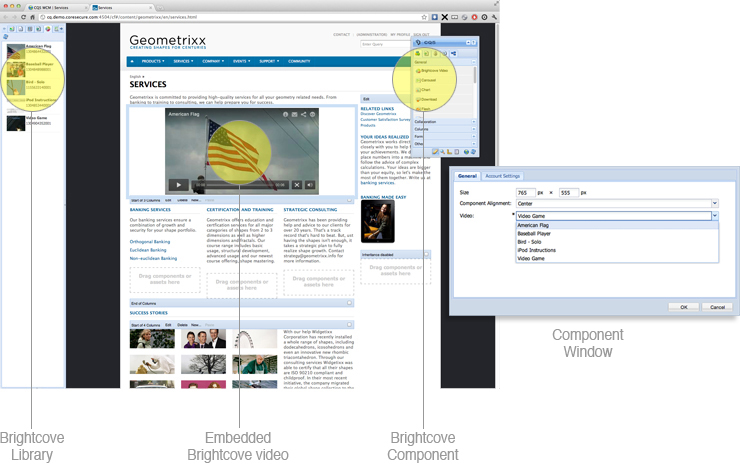 Brightcove's Video Cloud can now operate natively within the Adobe CQ5 environment.
Until now, CQ5 users who wanted to publish videos from their Video Cloud video libraries had two choices: they could implement a custom integration of the two platforms, which required either internal development resources, Brightcove professional services, or an external agency along with a fair amount of time; or they could tediously and laboriously copy and paste embed codes from Video Cloud into the CQ5 interface. As a result of the integration, Video Cloud now can seamlessly appear as one more function in CQ5.
The integration also streamlines video publishing workflows for organizations who have been using Video Cloud and CQ5 concurrently. This is particularly evident in instances where there is a division of labor between the person or team responsible for uploading content to Video Cloud, setting business rules and creating players, and the person or team responsible for editing and publishing webpages via CQ5. Both parties can now manage video content smoothly amongst themselves in the common CQ5 setting.
Part of Brightcove's Open Source project, the Video Cloud/CQ5 integration is free of charge to the Brightcove community. This is available to both existing users or future users who choose to take advantage of the power and effectiveness of the combined systems for their online marketing and communication initiatives.
Further information about the integration is available on Brightcove's CQ5 Partner page as well as from Coresecure. Installation instructions and an administrative guide are available through the Open Source @ Brightcove community page.
The Brightcove CMS Ecosystem
Video Cloud's integration with Adobe CQ5 is just the latest in what is an expanding list of content management system providers who are joining the Brightcove Alliance global partner program. The program consists of Open Source integrations like CQ5, Drupal and Microsoft Sharepoint, as well as deeper relationships such as the one with Ektron that include customer support, documentation and training. These partnerships encompass a broad range of CMS languages including PHP and .net.
In every case, the integrations are API driven, which requires users to only enter the Video Cloud publisher ID, read and write tokens, and player ID one time. From then on, the CMS will recognize the Video Cloud library, presenting videos, thumbs and metadata, and supporting search and tagging functions all within the native CMS environment.
To learn more about our CMS integrations, visit our CMS Technology Partners Alliance Program site.