Video is a great way to drive organic inbound traffic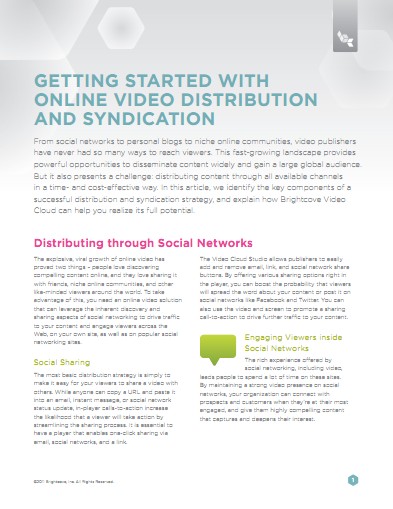 to your site, but for maximum impact you'll need to find ways to distribute your content to wherever your (potential) viewers are on the web. Distributing video to your viewers increases your exposure and can provide valuable hooks back to your own website to drive traffic.
But, the sheer number of distribution outlets, including Facebook, Twitter, YouTube, iTunes, emerging platforms like connected TVs, and more, create a problem -- how do you launch successful third party distribution initiatives in a timely and cost-effective manner? Uploading media directly to Facebook, YouTube and other channels independently would just take too much time to be a viable option.
Our new Distribution Brief, "Getting Started with Online Video Distribution and Syndication," identifies key components of a successful distribution and syndication strategy and outlines how Video Cloud can help you succeed with your efforts. Some of the topics covered in the brief include:
Engaging viewers inside social networks
Driving discoverability and traffic through YouTube
Leveraging MRSS distribution to generate a subscriber base
Measuring the success of your initiative through key video analytics
There's more great advice available in the brief, so download your free copy today. It's available on our Learning Center and also here: http://files.brightcove.com/brightcove-whitepaper-distribution.pdf