SES has recently launched a very cool video portal for the Swedish Hockey League (Elitserien) called "Elitserien Play" using Brightcove Video Cloud.
SES is an independent sports media producer with an in-house technical department that develops advanced solutions for a various range of platforms to ensure presentation of content produced by the SES production department. SES customers consist of some of the major players in broadcasting, media and betting segment in Sweden, for instance TV4/CANAL+, Aftonbladet and Svenska Spel.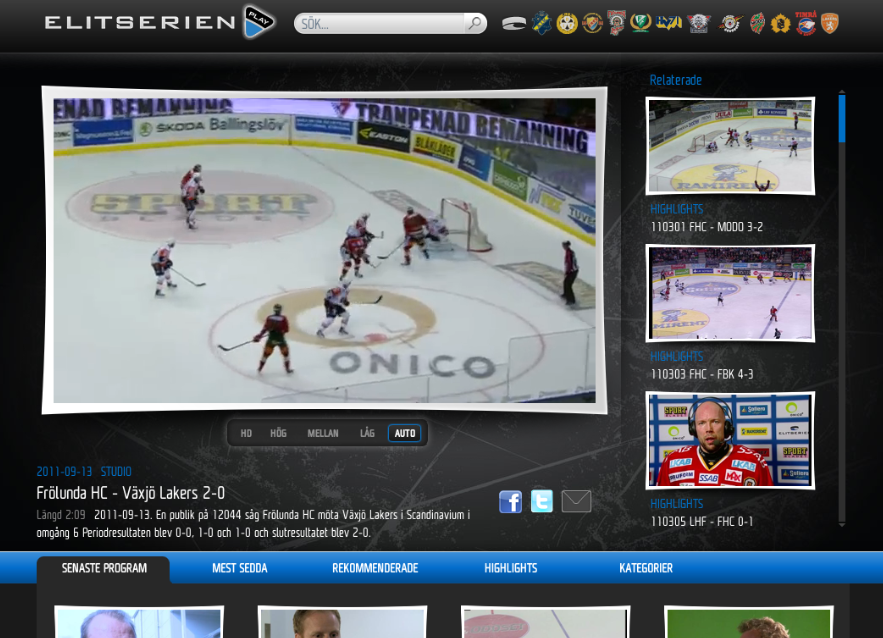 Elitserien Play works as a stand alone website, but is also fully integrated into the main website for Elitserien and to the websites of the twelve teams competing in the league. SES has developed and is also hosting the Elitserien website. SES will also soon host all of the team websites.
The variety of produced content is vast and much of the material is available in HD (720p). Published content consists of game highlights, condensed games, pre-game shows, player interviews, live streams, top lists with goals, saves and hits, etc.
The twelve teams in the league all use the same content management system (CMS) developed by SES, which has a separate video uploader that interacts with the Brightcove Video Cloud API, allowing CMS users to tag content to for instance players, team and officials. Thumbnails can be selected either by auto generated pics or by using the high quality picture archive connected to the CMS. The uploaded high quality content is distributed to Elitserien Play, but also to SES-production who uses this material for TV productions and arena experiences.
Using Video Cloud, SES was able to create a customized player experience that scales up to HD quality content but also enables viewer to toggle between viewing experiences depending on their bandwidth conditions. Viewers can also share video content easily on Facebook and Twitter or email it to friends, all within the video experience.
Video Cloud also enables video content to be sorted by latest published, most viewed, editorial picks and game highlights etc. SES also created a categories page that enables viewers to easily sort through the different types of video content available.
We encourage you to visit this exciting new site and catch up on the latest and greatest from the Swedish Hockey League!