Iconic Australian men's underwear brand aussieBum puts to rest the myth that retailers have to be of gargantuan size to successfully leverage online video. Product launches such as the company's WJPro (WonderJock Pro) show that online video can significantly boost sales via digital word of mouth. Video content shared on social and mobile channels also deepen aussieBum's interactions with fans, thus contributing to the company's unique brand personality.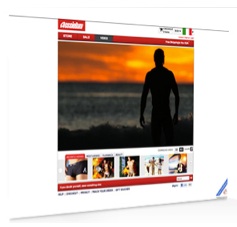 Traditionally, high quality online video was the domain of large media organizations. But, this notion has been changing rapidly as non-media companies seize the opportunity that ubiquitous broadband Internet connections offer.

Iconic Australian men's underwear brand, aussieBum, is a prime example of a new breed of retailers embracing online video as part of their e-Commerce strategy. Founded in 2001, the company cleverly manages to capture the Australian dream and its promise of beaches, sunshine and a 'no worries' lifestyle in its popular apparel fashions for men.

Over time, online video has evolved into such a key element of its e-Commerce strategy that it has become the channel of choice for new product launches.
aussieBum's incredibly successful WJPro launch exemplifies how video boosts sales with digital word of mouth. A variation of the original aussieBum WonderJock, WJPro was introduced with a new online video that went live on aussieBum's site on a Friday afternoon. The impact was almost instantaneous. Over the weekend, sales had reached half a million dollars.
"We chose Brightcove's Video Cloud because it is the best product in the market," said Kiah Roache-Turner, Head of Digital Media Production at aussieBum. "Not only is the product convincing, but Brightcove's local sales and support teams have extensive experience in helping business augment their e-Commerce strategy with online video as well."
Read more
And, by the way, B&T, a leading Australian digital agency publication, enjoyed aussieBum's online video success as much as we did. They decided to feature aussieBum in their feature story sites/all/uploads/B&T_22July11(1).pdf.