Yesterday afternoon, South by Southwest (SXSW) officially opened its 2012 PanelPicker public voting process, and we are excited that our very own Ashley Streb is one of the speakers being considered for SXSW Interactive 2012.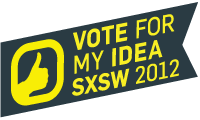 Ashley's proposed session is called "Delivering Online Content Experiences Across Platforms" and will help attendees learn effective strategies to maximize engagement and conversions across touch Web and app experiences for their content. Questions like "what is the difference between native apps and mobile Web experiences?" and "what are the challenges that developers typically run into when building cross-platform mobile apps?" will be addressed during the session.

Please take a minute and share your feedback on the session via the PanelPicker website and vote for Ashley if you are interested in learning more. You can also revisit our day 2 keynote presentation at Brightcove PLAY 2011 that outlines many of the themes and pain points that Ashley will touch on during this presentation. We hope to see you all at SXSW 2012!