We are happy to announce a new whitepaper that was published today on the "Brightcove Video Strategy Framework." Brightcove CEO, Jeremy Allaire, first introduced the Video Strategy Framework at our user conference, Brightcove PLAY, as a guide for deriving the most value from your online video initiatives. This whitepaper provides an in-depth look at the elements of the framework and how you can apply them to your business, as well as real life examples of how organizations who are putting these practices to good use and achieving success.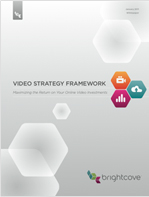 The Brightcove Video Strategy Framework is a set of best practices designed to help you increase your online video success. Developed through years of work with thousands of Brightcove customers, the framework provides a structured way to think through the role of video in your business, then identify practical steps you can take to achieve your goals more effectively.
The framework addresses every element of a complete online video strategy:
Mix
Quantity
Quality
Discovery
Distribution
Devices
Monetization
Analytics
In future blog posts, we will delve into each element in more detail. In the mean time, please download a copy of the whitepaper, as well as the helpful Video Strategy Self-Evaluation Worksheet, to help you get started on optimizing your video investments.
You can also join us for a webinar on Thursday, September 8th on "Introducing the Brightcove Video Strategy Framework". You can register for the webinar at https://www1.gotomeeting.com/register/227155120.