Brightcove is proud to sponsor Drupalcon, the international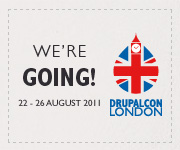 conference bringing together people who develop, design, and support the Drupal platform. We're always excited to support software that helps organizations publish content to the web! Drupal is also a Premier Brightcove Technology Partner.
Drupalcon is already underway in London and will run until August 26. We'll be powering the live stream of the event's keynotes, available on the Drupalcon homepage. Keynote sessions include:
Dries Buytaert, the original creator and project lead for Drupal
Tom Standage, digital editor at The Economist and author of five history books including "The Victorian Internet" (1998), described by the Wall Street Journal as a "dot-com cult classic"
Christopher Murphy and Nicklas Persson, also known as the The Web Standardistas, experts on standards-based web design and advocates of web design education
Our live stream takes full advantage of Brightcove Video Cloud's advanced live features, including live streaming to iOS devices and DVR functionality. I'm sure the latter will be a welcome sight for anyone interested in watching the keynotes from a US timezone! It is shaping up to be a great event this year in London, and we're pleased to be a part of it. Check out the full schedule for more details on sessions and tracks.
We've always understood that Video Cloud customers are managing not only video content but entire websites. Video is just one content type that makes the world's best websites engaging. That's why we've invested a lot with CMS partner integrations. The Brightcove Drupal module makes it easy to integrate Brightcove content into Drupal sites.
If you can't be at the conference, follow @drupalcon and the #drupalcon hashtag on Twitter and tune in for the keynotes!