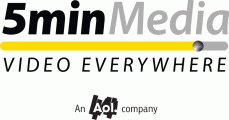 Today we announced an expanded partnership with 5min Media, the Web's largest video syndication platform and a division of AOL Advertising.com Group, expanding our existing relationship to enable our customers access to 5min Media's library of hundreds of thousands of premium video titles. Brightcove Pro and Enterprise edition customers around the world can now easily publish content from 5min Media directly from within their Brightcove account, while also introducing new advertising-revenue opportunities for publishers.
"The 5min Media and Brightcove partnership brings together two leading video platforms creating a unique opportunity for thousands of clients to easily access and use high-quality, relevant video," said Ran Harnevo, Co-founder and CEO of 5min Media and Senior Vice President of AOL Video. "The demand for online video is exponentially growing at a fast rate and, by partnering with Brightcove, we are bringing a solution to the marketplace to meet that demand. This is a win-win for both companies as well as our content partners."
5min Media's library consists of hundreds of thousands of videos across 20 categories and more than 140 sub-categories from some of the world's largest media companies as well as the most innovative independent producers. Content ranging from video recipes, yoga and fitness routines, tech tutorials, DIY projects for the home and garden, beauty and fashion tips, as well as entertainment and celebrity news give publishers an advanced starting point when introducing new advertising-supported online video initiatives. 5min Media is a leading online video property that ranks No. 1 in six vertical categories, including Home, Food, Health, Fashion/Beauty, and Travel, according to comScore Video Matrix (April 2011).
Read the full press release.