When the iPad 2 was first released, we wrote about how the latest incarnation of the market-forming tablet was really all about the video features.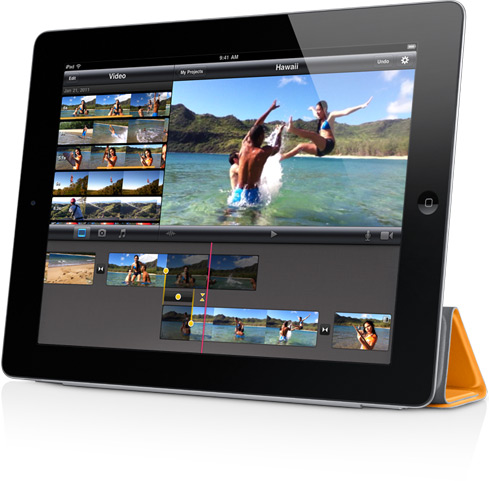 Faster Processor: The dual-core A5 chip means faster graphics processing, and that ultimately means better, smoother playback for all videos on the device. It also means a better browsing experience.
Two Cameras: The addition of the front-facing camera does great things for video chat, but it's also means a whole new way to record video of yourself as a talking head, which can be great content to edit in with presentation slides, or just for short commentary videos on the go.
Output: This is big news because the iPad has never had any output options before. Now, with the addition of the the Digital AV Adapter port, the iPad supports video mirroring or video out to connect to projectors and televisions so that you can share your screen. This turns the personal mobile device into a social device for shared viewing for everywhere, from the living room to the board room.
iMovie: Wow. This is impressive. It started with the iPhone 4, and now the iPad supports video editing with iMovie software directly on the device. This is pretty incredible, as mobile devices have reached a point where they are powerful enough to support processing-intensive activities like video rendering. This will mean a lot to journalists and bloggers who shoot and edit video on the fly in the field for a quick turn-around. Think of all the real-time video coverage this could support!
Now that the iPad 2 is released in the wild, and our Brightcove Mobile Uploader app is available to all customers, we're really excited about what this means for mobile video production for our publishers.
Sign up for a Trial, Win an iPad 2!
To celebrate Mobile Video, we're giving away a free iPad 2 to one lucky new Trial user every Friday in the month of April. All you have to do is start a free trial, upload a video, and then become eligible for a chance to win one of five iPads throughout the month!

If you're already a Brightcove customer, help spread the word and share this link with your friends. Encourage them to try Brigthcove for themselves, and maybe they'll win an iPad 2!