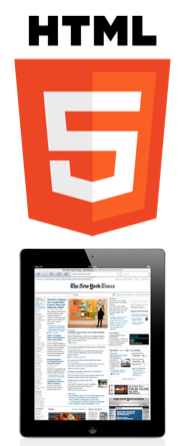 Apple drew a line in the sand when it announced that iPad and other iOS devices would not support Flash runtimes. That decision had a big impact as far as web-based video is concerned. At the time, nearly all online video was built on Flash, and in response, video producers like ourselves scrambled to provide alternative solutions to support mobile playback on whatever device video appeared on.
We are proud to have been a market leader bringing iPad-friendly solutions to the market quickly, and our Smart Players now make video embedding easier than ever before, as the dynamically adjust to playback video in Flash- or in HTML5-based environments.
Facts & Fiction
But HTML5 Video solutions are by no means perfect today. The media is buzzing about the promise of what HTML5 has to offer for the future of online interactive experiences, but buzz often generates along with it a lot of hype. At the same time, people are nervous about the current state of the standard, which browsers require what codecs, and how to future-proof their online media investments.
We wanted to set the record straight to separate the fact from the fiction. Does HTML5 kill Flash and plug-ins? Is HTML5 video ready for prime time? We set out to answer these questions and more in our HTML5 Video Facts & Fiction whitepaper, free for download.
Regardless of the current limitations of HTML5 Video, we're thrilled to support our publishers with Smart Players that make video playback on the iPad just as easy as any other environment.
Start a Trial to See Your Video on the iPad
To celebrate our continued support of HTML5 video standards, we're giving away a free iPad to one lucky person each week throughout the month of April. All you have to do is start a free trial, upload a video, and then you are eligible to win!

If you're already a Brightcove customer, help spread the word and share this link with your friends. Encourage them to try Brightcove for themselves, and maybe they'll win an iPad 2!