ComScore's 2010 US Digital Year in Review report contains some interesting insights into the rapid growth in the US online video market.
ComScore found that an average of 179 million Americans were watching some form of video online each month, which is roughly 60% of the US population.
Everything is trending upward. Average unique viewers on a given day is up 32% from a year ago. Total viewing sessions by month are up 13% year over year. Viewers are spending more time (up 12%), and watching more videos (up 8%) in a given month.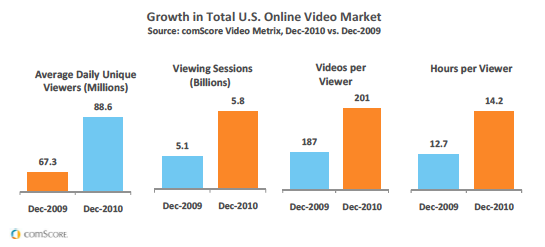 And according to comScore, the future for video looks bright: "Based on activity in the back half of the year the rate of change is likely to continue or increase, making video an increasingly important part of the digital experience." For more insights into video, search, display advertising, and mobile, check out the complete report.
This is great news for video publishers, as viewers are watching more video across all categories, including online television from broadcasters. We've seen similar growth in our quarterly trend reports produced along with our partners at TubeMogul. Download the Q4 Report here (PDF).