Recent events in Japan leave us sad beyond words. We are relieved that all of our Brightcove KK colleagues are currently safe and accounted for. But the nuclear radiation crisis continues to escalate and millions of people are experiencing unimaginable suffering, fear, and loss.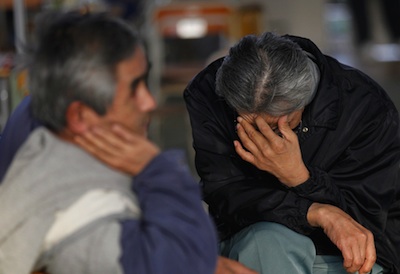 People rest in an evacuation centre near Rikuzentakata, northern Japan, March 14, 2011. (Lee Jae-Won/Reuters)
It is time for all of us to do what we can to bring comfort and hope to the Japanese people. In that spirit, Brightcove has made a substantial donation to the Red Cross in support of Japanese Earthquake and Tsunami relief.
We invite everyone in our ecosystem - employees, customers, Alliance partners, and suppliers - to join us in supporting the Japanese people by making generous donations to the Red Cross. Please give what you can, and encourage your employees and ecosystems to do their part as well.
In the US, text REDCROSS to 90999 from your mobile phone to give $10. It's quick and easy and costs less than lunch.
Click the banner below to make a more substantial donation.

We have no doubt that smiles and peace of mind will eventually return to the faces of our Japanese friends. To that day and beyond, they can count on us for support. We hope they can count on you too. Give now.