Everyone is a-buzz with excitement for Apple's latest announcement: the iPad 2. Over at Brightcove, we're pretty excited by fact that so many of the new features contribute to video activities on the device, whether it's watching, producing, or sharing video.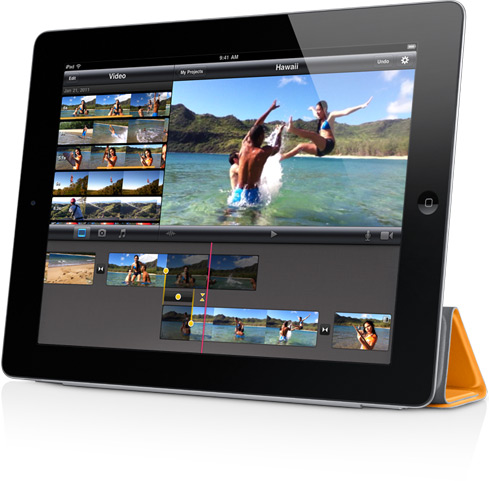 Faster Processor: The dual-core A5 chip means faster graphics processing, and that ultimately means better, smoother playback for all videos on the device. It also means a better browsing experience.
Two Cameras: The addition of the front-facing camera does great things for video chat, but it's also means a whole new way to record video of yourself as a talking head, which can be great content to edit in with presentation slides, or just for short commentary videos on the go.
Output: This is big news because the iPad has never had any output options before. Now, with the addition of the the Digital AV Adapter port, the iPad supports video mirroring or video out to connect to projectors and televisions so that you can share your screen. This turns the personal mobile device into a social device for shared viewing for everywhere, from the living room to the board room.
iMovie: Wow. This is impressive. It started with the iPhone 4, and now the iPad supports video editing with iMovie software directly on the device. This is pretty incredible, as mobile devices have reached a point where they are powerful enough to support processing-intensive activities like video rendering. This will mean a lot to journalists and bloggers who shoot and edit video on the fly in the field for a quick turn-around. Think of all the real-time video coverage this could support!
All these video-centric features have us really excited. They bring up really interesting implications for mobile video watching, video production, and video presentation.
However, there's still no support for Flash, so all the requirements around HTML5 and H.264 formats still hold true. That's especially important for mobile browser playback (as opposed to app-based video playback). But not to worry! The work we've done at Brightcove to make it easy for publishers' video to play on any device still holds, no matter if it's Flash-based or HTML5 iOS devices. We've got you covered. For more coverage on the current state of HTML5, check out our free download on HTML5 Video Facts and Fiction.
I don't know about you, but I'm counting down the days until March 11...