We are happy to announce today that The Humane Society of the United States (HSUS), the nation's largest animal protection organization, has teamed with Brightcove to launch new online and mobile video offerings. Brightcove enables the HSUS to deliver an integrated, high quality video experience for its website, www.humanesociety.org, as well as to mobile and HTML5-compatible mobile devices.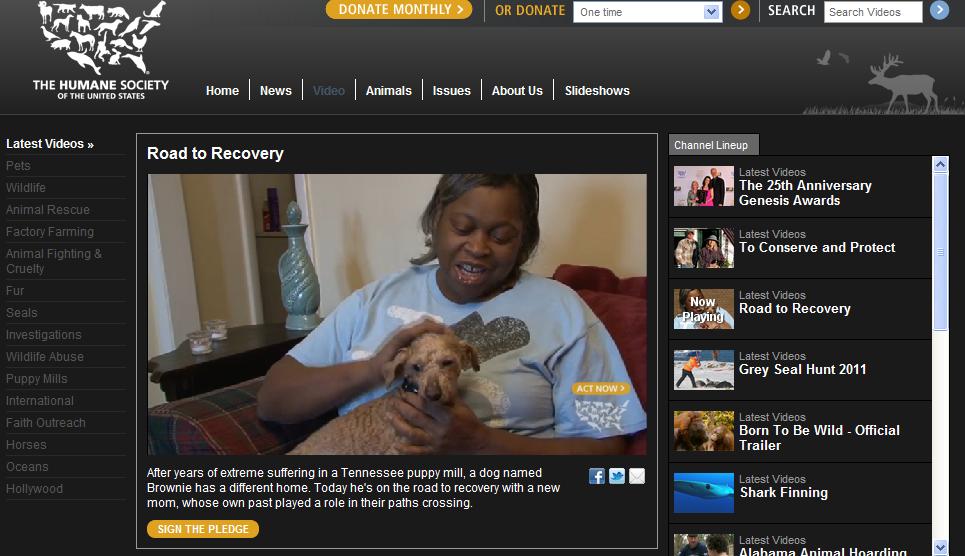 HSUS' award-winning videos showcase the organization's animal rescue operations and undercover investigations that help to spread the word about their work to celebrate animals and confront cruelty. Now with Brightcove they are able to drastically expand their library of videos and introduce new channels and offerings for site visitors, as well as a higher quality viewing experience.

Brightcove's range of mobile video capabilities also make it easy for HSUS to reach Android devices, iPhones and iPads, as well as deliver iTunes HD podcasts. Now the organization's video content can reach the widest audience possible while still delivering a high quality, branded user experience regardless of device or browser.

We are proud to be the online video platform behind such an instrumental organization. Brightcove works with many influential non-profit organizations throughout the world that are using video to increase awareness of their missions and to educate the general public on how they can help. Video is a crucial tool for non-profits of all kinds, as it helps them to engage directly with supporters and expand the reach of their messages to people around the world.

In addition to HSUS, organizations like the AARP, AFL-CIO, American Federation of Teachers, Anti-Defamation League, Christopher & Dana Reeve Foundation, Kaiser Family Foundation, and Heritage Foundation are all using the Brightcove platform to support their video initiatives. We're excited to continue to support the efforts of these organizations and many others both now and in the future.