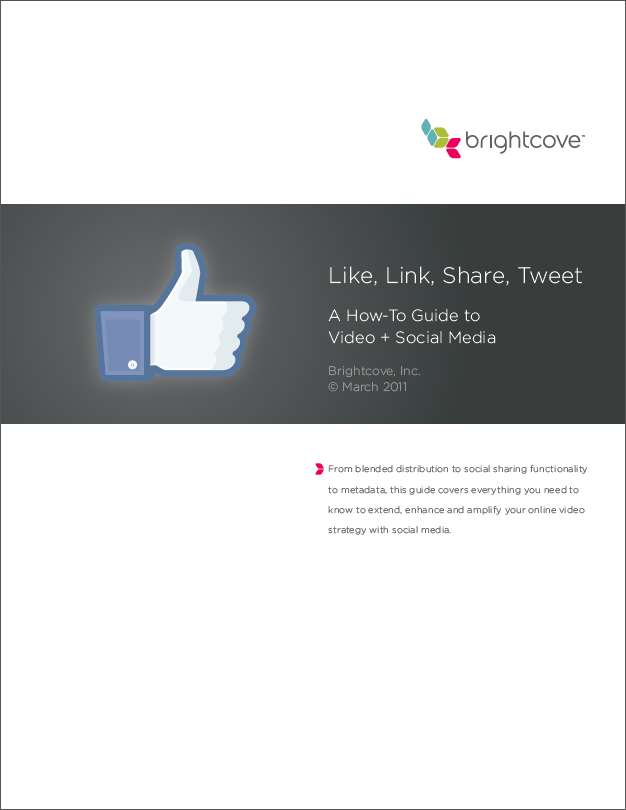 Back in January, we noticed that the most active search terms in Brightcove support were Facebook and YouTube. With the addition of features like YouTube Sync, and the wild popularity of social networks, we thought it was prime time to talk about how publishers can take advantage of all the social engagement tools that are available today.
We know that a lot of our customers are just getting their feet wet using the new storytelling tools that are native to the web: video and social media. That's why we pulled together this helpful guide to help out the newbies and to inspire social media veterans to make the most of the powerful combination that is social media and video.

In the guide, we cover everything from the scale of the current social media opportunity, to blended distrubtion strategies with YouTube Sync, to using metadata to give context to your videos and improve SEO, and more. We take a close look at how video gets shared on each major social media platform, and offer up examples of how Brightcove customers are incorporating video into their social media presence across the web.
For a taste of what's in the whitepaper, take a look at this post about smartwater's recent viral video campaign, and this post about the ways social video can drive business outcomes that will resonate with your boss.
Download the free guide to get ideas and inspiration for how you can make the most of social media and video today.