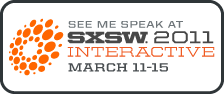 SXSW is just a week away, so now's the time to crawl the schedule to get ready. The conference is getting bigger every year, which makes it a challenge to choose between the fantastic sessions that compete for the same time slot. So here are a few video-centric gems that might interest video folks like yourselves.
Using Online Video to Build Your Company's Audience
A panel of video bloggers and producers will present tips and tricks to set companies up to start producing their own content in-house.
Unprecedented: Opportunities in Digital Video
This session answers the "why video" question: "video inspires us to realize the limitless potential of the web to facilitate communication that's rich in emotion."
Video's Second Coming: Making it Social
Interesting discussion about how social collaboration around video editing and production is getting easier in the cloud.
Cage Match: Social vs. Video
This session pits video against social media for marketers' attention. I think they go hand in hand, personally, but should make for a great debate!
Designing Video-Rich Websites for All Three Screens
Brightcove's very own Jesse Streb will present this Future 15 session about building in Flash, HTML5, and native mobile apps for the PC, mobile devices, and connected TVs.
DSLR Video and Beyond: The Impact of Emerging Technology on Filmmaking
The cost of producing high quality HD video is dropping every day. I'm really excited to learn more about how producers are using DLSR cameras to film everything from indie movies to news coverage.
In Web Video, Can Quality and Scale Coexist?
This session talks about the shifts from low-fi UGC of the early days of web video as the ability to produce high-quality video on the cheap and at scale.
Stay tuned for more on these and other sessions from me. If you can't be there yourself, what would you like to see covered? Drop me a comment here or send a tweet to @smwat!