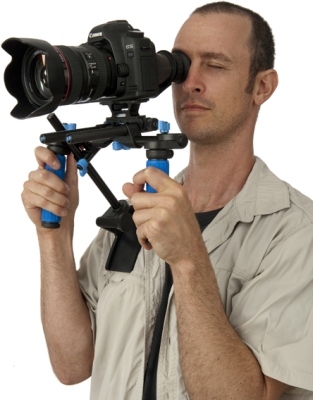 DSLR cameras were everywhere at SXSW. With the constant event coverage, and the convergence between the Interactive and Film sessions, DSLR cameras were a point of interest for a large cross-section of the audience at the festival. From the Canon 7D to the Nikon D7000 - stunning but affordable video production is becoming mainstream and accessible to all professional-amateurs and full time producers alike.
One session moderated by Guy Kawaski explored the impacts of DSLR cameras on production and quality in video and filmmaking. DSLR Video DSLR Video and Beyond: The Impact of Emerging Technology on Filmmaking included Steve Heiner from Nikon, Blake Whitman of Vimeo, and Bill Frakes of Straw Hat Visuals. The session covered how more affordable and portable technologies are changing production, especially in independent cinema, journalism, and music videos.
DSLRs bring a new level of efficient quality, both in the smaller footprint for portability, but also in being less invasive and more natural while shooting on location. Bill Frakes highlighted how DLSRs have made new shot angles possible, as demonstrated in footage of and from a hot air balloon. He also described how the DSLR kit allowed him to shoot a poignant profile of an aging poet laureate without disrupting him in his quiet home with overbearing equipment.
DLSRs have also allowed videographers to dabble with photography and photographers to become familiar with moving images. Bill Frakes himself works primarily as a photographer, but the combination of formats in one device has allowed him to explore new expressive modes.
DSLR cameras have a unique ability to work with different lenses of all kinds, which introduces new artistic expression in shots. They also allow videopgraphers to capture incredible detail in low-light situations. That was especially important for capturing video at the sometimes dimly-lit panels at SXSW, and at all the awesome music and party events happening in the evenings at SXSW.
I also got a chance to speak with Paul McAniff, a Professional Market Specialist with Canon at the SXSW Trade Show. He was excited to see so many people using Canon DSLRs to cover the event, and said "I haven't walked outside on the street without seeing someone shooting with a Canon SLR." Check out the video interview:
Paul made a great point: that DSLR cameras have democratized filmmaking in a whole new way, not only for online video, but for the moving image acquisition on the whole, and at every level of professionalism.
Sadly, I do not yet have a DSLR camera of my own, but I'm convinced that it's worth the [relatively affordable] investment to start producing more video! Since I'm in the market for one myself, I've pulled together a few useful resources to generate ideas for getting started with DSLR Video production.
DSLR Video Resources
Reviews
Books
Video
DSLR Video Film School from Vimeo. This is a lighthearted look at the basics to get you started.
EOS 7D: On-Camera Tutorials from Canon. These are all downloadable so you can play them in the field on your iPod or iPhone! They have specific tutorials for each camera, too.